Theatre Royal, Newcastle – 8 February 2015
The self styled governor of common sense, Al Murray, returns with his alter ego The Pub Landlord, in this politicised tour de force.
Striding on to the stage, pint in hand, we are treated to over 2 hours of the Landlords views and opinions and what will happen when he is Prime Minister. The audience is to be his cabinet and the first few rows are his front benches.  The first half is really the Guv meeting his people.  Using playful banter to talk to various members of the audience.  Some students, a man in his 50's referred to as "pop", a few late comers, a man with his mum and a couple more.  After checking that Emily, the object of his affection, was over 18 he continued to flirt with with her, showing his skills by yelling "I love you" in her face.  "I love you" and "I told you so" being two of the important phrases used in life.
The second half was his manifesto, the idea that Nigel Farage needed to change the pronunciation of his name to rhyme with garage.  His idea's on economics (reckon-omics) credit (the bank believes in you) and debt (the bank stops believing in you).  His act of the stock markets, his Tokyo in particular, are side splitting.
A question and answer session reveals his further idea's and although some things may be near the knuckle and have you wondering if those things can be said in public, its still funny.  After all nothing can hurt when said in jest….
He allows one opportunity for photo's and take selfies of himself with the audience, because you want to see the show not be distracted by flashes.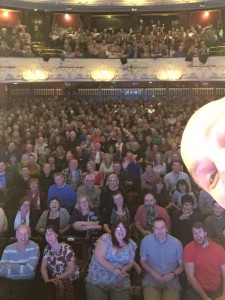 The show is hilarious from start to finish.  Even when you are cringing you're laughing, its a joyous bit of political un-correctness in PC gone mad world