The Vaults – until 7 January 2023
Reviewed by Claire Roderick
4****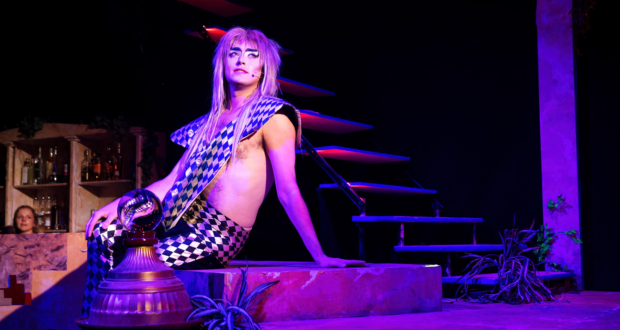 Sleeping Trees' comedic Christmas mashups never fail to entertain, and this year's sees Peter Pan enter the world of two of the most brilliantly bonkers films ever made. Dan Wye joins the trio as David Bowie, and his high camp, arch performance as he messes with Peter Pan's (James Dunnel-Smith) life is a real treat.
Peter loses a bet with Captain Hook and is banished from Neverland. After 20 years, middle-aged Peter finds out that Tinkerbell is being tricked into marrying Hook and needs to find a way to save her. Enter Bowie, in his Goblin King outfit, to challenge Peter to find the centre of the labyrinth and get his wish to return to Neverland. A simple plot, but Sleeping Trees manage to shoehorn images and characters from Pan's Labyrinth – Hands for Eyes will never give you the chills again after seeing this version!- and Labyrinth. The excitement amongst some audience members when familiar characters appeared – especially the worm – was almost as funny as what was happening onstage.
The inclusion of a bar with themed cocktails as part of the stage ensures a relaxed and vocal audience, and Maeve Black's set echoes the Labyrinth and allows the cast to pop up from numerous places. Ben Hales' lighting design and Clancy Flynn's sound design add to the camp and nostalgic party atmosphere. There are silly audience participation, games and singalongs to the hilarious parodies of Bowie songs. Kermit pops up for a cameo in the labyrinth, and the guardian of the Bog of Eternal Stench is what every child who's watched the film wished it could be.
It's chaotic and charming. The humour ranges from utter filth to dad jokes, and just keeps coming. Joshua Smith and John Woodburn multi role brilliantly, with puppets and ridiculous outfits galore. The cast seem to be trying to make each other laugh, which is always fantastic to watch, and Dan Wye's insane performance as Peter's Brummie shadow nearly tipped everyone over the edge. I have no idea how director Shenoah Allen keeps these performers on track, but the show is fantastic. A brilliant night out for Christmas – buffoonery, booze… and Bowie.
The Vaults are introducing Pay What You Can tickets across their seasonal program, to support those struggling to access culture in the current economic climate.
Every Wednesday and Sunday Pay what You Can tickets are priced from £3 and bookable in advance.
The season includes Witches of Oz, a drag dining cabaret in the Emerald City, 21st September – 15th January, and Stranger Sings!, a Stranger Things musical parody 5th October – 15th January.