Grand Opera House York – Friday 4th November 2022
Reviewed by Michelle Richardson
4 ½ ****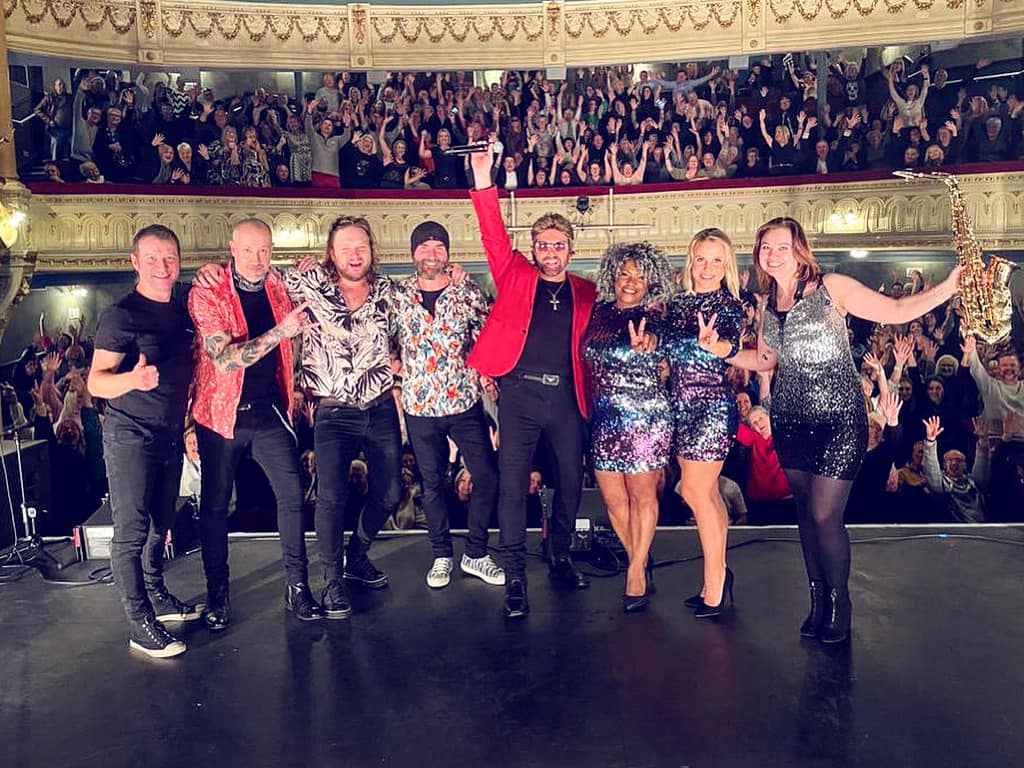 I'm a huge fan of 80's music and I love going to any concerts that I can, so I was super excited to be given the opportunity to get to see this production.
George Michael Joseph (Joseph Sansome) has been performing as George Michael for years, after being discovered singing karaoke with Careless Whisper, long before George's untimely death, and now tours with Fastlove to packed out audiences.
As the band start playing, we heard Joseph's singing of Fastlove, but we don't see him for a couple of minutes. He sounds very much like George, and the impact has been made before we see him in the flesh, where he does bear a passing resemblance, especially with his tinted glasses. Once he set foot on stage the audience erupted, eager for what was to come.
For the next couple of hours, we are treated to the fabulous music that George made throughout his career. It's easy to forget what a truly talented artist George and how many hits he had. This show covers all the greats, Don't Let the Sun Go Down on Me, Careless Whisper, Club Tropicana, Young Guns, Edge of Heaven, Outside (yes Joseph donned the cop uniform and handcuffs just like George in the video) and many more. I am so pleased my own personal favourite from the Wham period was covered, Everything She Wants, in fact that song is up there as one of my all-time favourites by anyone.
For the majority of the performance a good proportion of the audience were up on their feet dancing along, including me. That's a feat as York can be a bit reserved in that respect. It appeared to me, at least, that everyone was singing along to all the songs, even if they didn't know all the words. There were a couple of men behind who sang everything word for word. I must admit that I thought the theatre would be packed up with ladies of a certain age, my demographic, but I am pleased to say that I was well and truly wrong, there were plenty of men there enjoying the show just as much. I did find at the beginning of the show I struggled to hear the vocals as the band were loud, but this improved as the show carried on.
For the first half Joseph appeared as later George with skinny jeans, jacket, cross and tinted glasses, he then changed into a leather jacket, sunglasses and wig, reminiscent of the Wham days. Still not sure about that wig though. Joseph really does come close to sounding like George and really does George's memory justice. I have recently seen a George Michael tribute and Joseph is far superior.
Joseph was joined on stage by a group of talented musicians and singers. Carol and Jess were the backing vocalists, and they both gave stunning performances. Ellie was on the saxophone and hit every note with her solos. The band, Sam, Adam and the keyboard player (I couldn't work out what I had written as his name, sorry), were so good, with some great energy.
Fastlove is a fabulous night out for any George Michael fan, you won't be disappointed. After George Michael's untimely death, approaching six years ago, this is the best chance of hearing his great music, both as part of Wham and as a solo artist. Just a shame I never got to see him perform in person, this is the next best thing.