Leeds Grand Theatre – until 29 October 2022
Reviewed by Dawn Smallwood
4****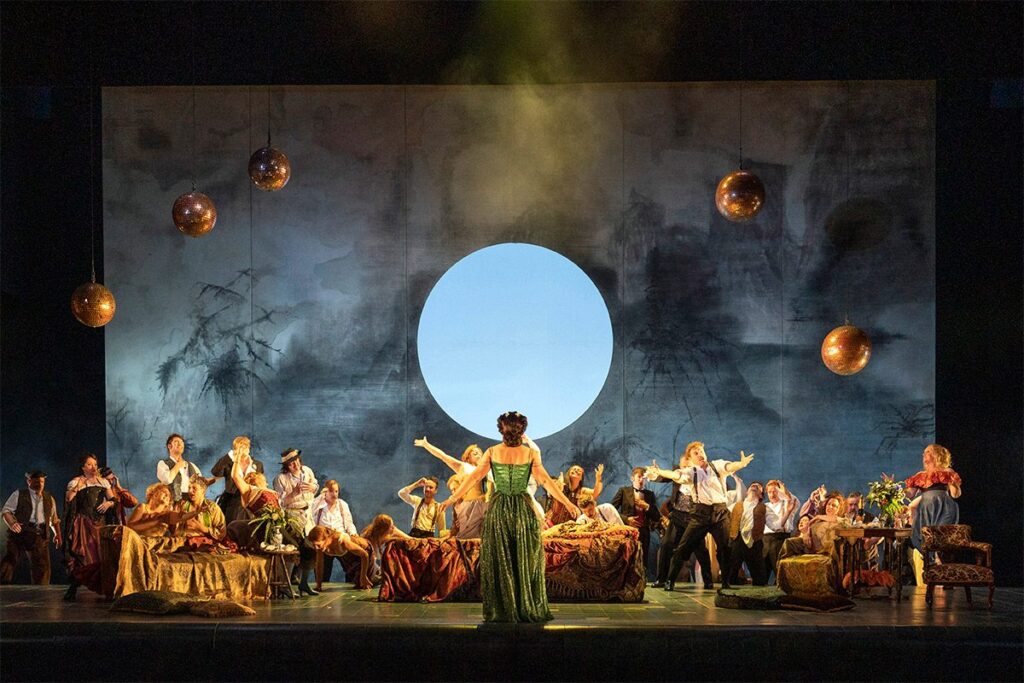 Opera North marks 2022 autumn season with the production, debuted in 2014, La Traviata. The opera is set to Guiseppe Verdi's musical score and based on Alexandre Dumas fils' La Dame aux camélias and the main character, Marie Duplessis.
Directed by Alessandro Talevi and choreographed by Victoria Newlyn, La Traviata explores the love between Violetta (Alison Langer), a courtesan, and Alfredo Germot (Nico Darmanin), a young man from provincial France. Violetta was living for her life with parties until meeting Alfredo and after some persuasion and resistance, she falls in love with him.
The relationship isn't approved particularly with Giorgio Germot (Damiano Salerno), Alfredo's father, and he asks Violetta to sacrifice their love for his children's happiness and security which in turn she does. It doesn't go down well with Alfredo, and he is determined to get Violetta's love back. The plot unfolds where themes of betrayal, jealousy, rivalry, and vindication are unravelled throughout the three acts. Redemption and forgiveness are eventually sought between all parties but only to have met with tragedy.
Excellent portrayals from Langer as Violetta, Darmanin as Alfredo, and Salerno as Giorgio. They are supported by the rest of the strong and talented cast. Familiarity reigns for its emotive and upbeat music particularly the well-known arias, Libiamo ne'lieti calici (Brindisi) and Sempre Libera, under the musical direction of Jonathan Webb.
The staging is incredible with captivating creative designs by Madeleine Boyd with lighting and videographic support from Matthew Haskins and Gemma Burditt. The staging solidifies and transports the story of Violetta and the Parisian high society with the contrasting circumstances she lives in.
An emotional evocative opera with a tragic story of "Amore e Morte" of a fallen woman quoted in the programme by Sarah Hibberd. Sung in Italian with English surtitles, La Traviata is an opera which is worth it to see musically and narratively.