Edinburgh Fringe Festival
Assembly George Square Gardens (Palais Du Variete), Venue 3 – until 18th August 2022
Reviewed By Marcus
5*****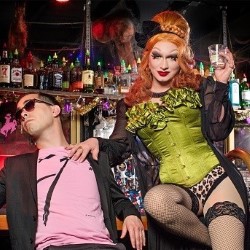 With how saturated the fringe is, there is so much variety to see. From hilarious standup comedians to stellar sopranos. Is it possible to find all of it in one show? Believe me when I tell you that yes, it absolutely is. Jinkx Monsoon and Major Scales deliver all of that, and then some in She's Still Got It, and I've still got the songs in my head!
Now you're probably thinking "I know that name", and if you're a raging queer like myself, you would know that she won a small series called Rupaul's Drag Race. Not once but twice, being the first ever queen to do so. With her second win, Jinkx is now hailed as the QUEEN OF ALL QUEENS. Seems like a big title to live up to. I like to think after my many years of reviewing and working in theatre, that I have a good eye for seeing amazing performers. Someone who is professional, present, and passionate. Jinkx is one of those people who should give a master class on the art of performance, being one of the greatest drag queens of all time.
Major Scales, while nowhere near as famous as Jinkx (which in truth is a huge oversight on the part of the general public), is just as exemplary as an artist. Writing songs and working on creating the show. It's very interesting to look at how Major Scales worked on stage, by boosting Jinkx up and supporting them, yet also finding their own moments to shine as a performer.
I thoroughly enjoyed watching the show, with a double vodka coke in one hand, and the other being used to wipe tears of laughter from my face. This is not just a drag show, this is a masterpiece of performance.