Wimbledon New Theatre, Wimbledon – until 20th August 2022
Reviewed by Bobbi Fenton
5*****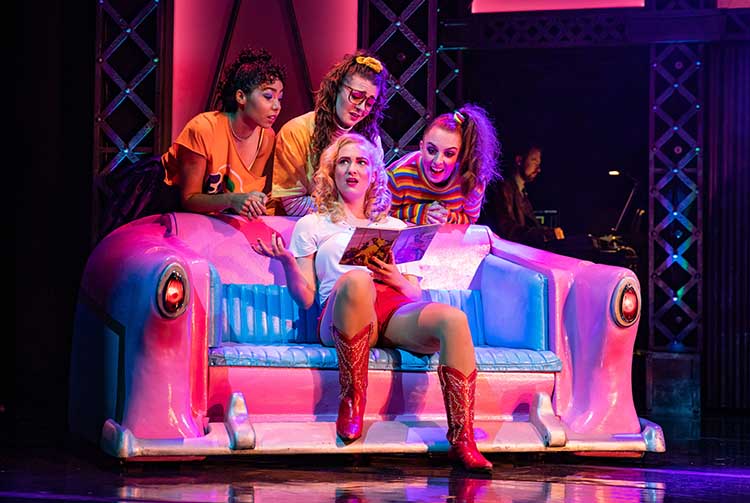 'Footloose', based on the film of the same name, is an absolutely incredible musical, about a small town in America and their struggle to recover from a five-year-old tragedy.
The small town of Bomont becomes the new hometown for Ren (Joshua Hawkins) and his Mother, Ethel (Wendy Paver). However, Ren soon discovers that for the last five years, dancing has been against the law, following the death of four teenagers on their way home from a dance. The town Reverend, Shaw Moore (Darren Day) had influenced the people living in the town to create this law as a way of honouring the deaths of these teenagers, one of which being his son. When Ren starts to try to change this law, after getting the senior year class on side, Reverend Moore is furious, and forbids his daughter Ariel (Lucy Munden) from seeing him. The show has a very happy ending, though, which will have you out of your seat and dancing along with the characters.
Featuring brilliant 80's songs, performed by an extremely talented cast, this musical is guaranteed to have you dancing along to the music in your seat. These songs are performed by remarkable actors, with the music being played live on stage with instruments such as a flute, a clarinet, drums, and guitars. Not forgetting the performance by Aston Merrygold as Willard, who manages to perfectly balance the hilarious comedic aspect of the character, as well as powerful vocals during his song 'Mama says (you can't back down)'. Merrygold's performance is bound to have you crying with laughter, especially during his awkward interactions between himself and Rusty (Oonagh Cox), who is hysterically funny during these moments.
This show is truly brilliant, and an absolute must see for everyone. You will definitely not regret it.