Northern Stage Newcastle – until 10th June 2023
Reviewed by Sandra Little
5*****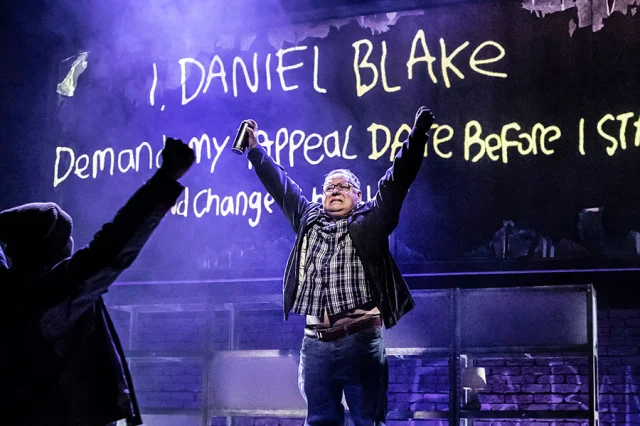 I, Daniel Blake currently playing at Northern Stage has been adapted by Dave Johns from the 2016 film of the same name which was directed by Ken Loach. In the film Dave Johns played Daniel Blake, a Geordie carpenter recovering from a heart attack. This stage adaptation is directed by Mark Calvert.
In the play we are introduced to the central character Daniel Blake, played by David Nellist. Daniel is a carpenter in his 50s who has recently had a heart attack and is no longer able to work. He strikes up a friendship with Katie Jenkins (Bryony Corrigan) a young mum who has moved to Newcastle to start a new life with her daughter Daisy (Jodie Wild). Daniel, who has never claimed benefits in the past, struggles to navigate his way around a complex bureaucratic system littered with jargon; meanwhile Katie has her benefits "sanctioned" because she is late for her appointment.
As the friendship between Daniel and Katie develops the difficulties of existing with no income are laid bare and the frustrations experienced by Daniel in particular, become very clear. Despite the distressing storyline, there are some amusing situations and some quite funny dialogue, mainly provided by China ( Kema Sikazwe) and Daniel.
The front of the programme for this play has the words, "This is not fiction." written across the page. There can be no doubt that the themes of poverty and deprivation explored in this work are as relevant today as they were in 2016 when the film was made. Information in the programme states there was one food bank in Newcastle in 2016 whereas now there are eight; furthermore we are told that there are more food banks in the UK than there are McDonald's! Additional information on the theatre website quotes the Joseph Rowntree Foundation's Poverty Report 2022 which found that 14.5 million people are currently living in poverty in the UK. We also read in the programme that the director of this play (Mark Calvert) cites his months of volunteering at a local food bank as proof for him that this is not fiction!
Whilst this play is a very relevant and powerful piece of drama set on Tyneside the issues relating to benefits and poverty alongside themes of friendship, family and community are equally relevant to communities in all areas of the country and therefore have a wider universal appeal.
The set and lighting used on stage are quite simple but are perfectly adequate and do not distract from the powerful performances from all of the cast. The addition of political quotes to the narrative highlighted a lack of empathy and understanding from some senior political figures. I had to remind myself that these quotes were not fictitious!
I think this was a stunning adaptation that is fiercely political and demonstrates how people are worn down when the odds are stacked against them. Dave Johns has said that he wanted his adaptation to show, " kindness, compassion, humour and hope that helps us through tough times." For me It absolutely did this.
The current run of plays at Northern Stage is now sold out however this production is visiting other theatres around the country and returns to Northern Stage in September.