Seven Dials Playhouse – until 15th October 2022
Reviewed By Emily Cliff
4****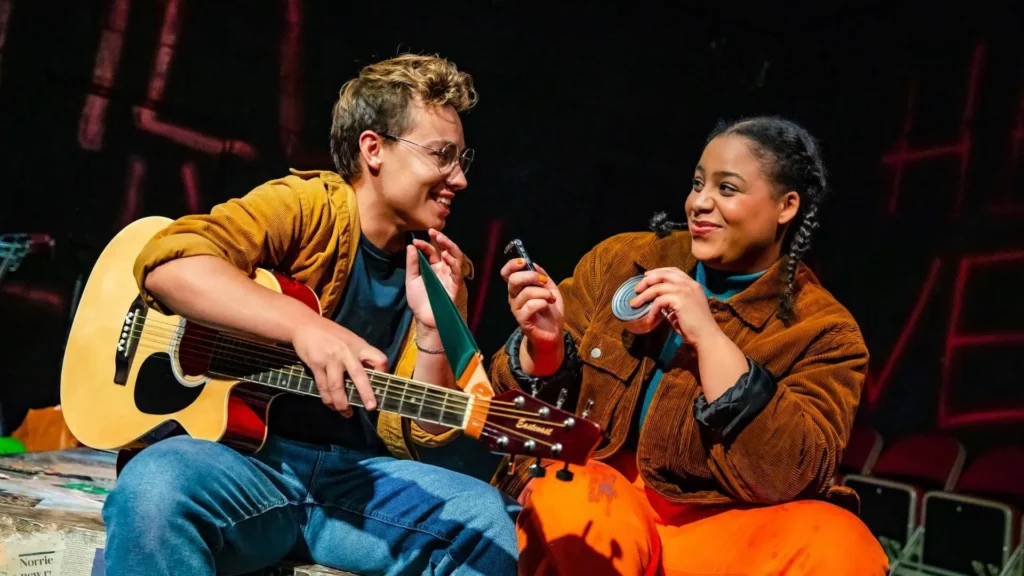 Who knew the end of the world could be so much fun? Help! We Are Still Alive is a musical comedy set in a post-apocalyptic world in the scarily not-so-distant future. Directed by OFFIE nominated Georgie Rankom, this delightful dystopian comedy looks at queer relationships, our relationships with each other and our relationship with the ever-changing world.
When you first enter the theatre for this show, you really don't know what to expect. A chandelier of torches, a Sainsbury's shopping trolly, a shovel, and a large platform covered in newspapers. It's about as apocalyptic as you can get really. The staging gave nothing but the promise of a black mirror-esque performance.
The first thing to comment on for this production has to be the quality of the writing. There was a perfect balance of comedy and seriousness. Told in a series of voice notes, the fast-paced humour in this show is what carried the dialogue. It is almost human nature to use comedy and humour as a defence mechanism when something like, I don't know, the end of the world is happening and the writing of this production really captured the honesty hidden between the jokes. Sometimes when traumatic events occur, all we can really do is joke to cope with the situation, and the writing of this production does that brilliantly.
The songs in this show are equally as funny and charming as the dialogue. Almost reverting back to the first lockdown at the start of the pandemic when we would do anything we could possibly think of to just keep ourselves occupied. Finn and Jass are possibly the only two people left in the world, what is there to do when everything you know and love is dead? The chemistry between the two characters was impeccable, and as the show itself developed you could see the development in the characters, the longing in Jass to find other people and the contentment in Finn just to stay put.
Overall this show was a charming interpretation of the end of the world. Incredibly funny, but also serious and tense where it needed to be. Filled with charming songs, and brilliantly gelled harmonies, Help! We Are Still Alive kicked off the autumn season at Seven Dials Playhouse with a bang.