Soho Theatre – until 24th September 2022
Reviewed by Emily Cliff
5*****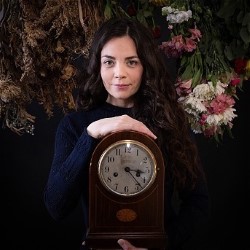 After blowing away audiences and reviewers alike at this year's Edinburgh Festival Fringe, Hayley McGee's Fringe First award-winning five-star production Age is a Feeling is transferring to Soho Theatre for a sold-out run. Inspired by real-life interviews. Age is a Feeling is a story of one person's life from their 25th birthday until the end: exploring the glorious and melancholy unknowability of human life, the joys and tragedies of getting older, and the sides of people we never get to know.
A completely unique production and never the same show, each performance is beautifully different. The audience chooses to hear six of twelve stories, dipping in and out of one person's lifespan as it unfolds across the show. Depending on the audience's choices, there are 180 different potential versions to be heard with different combinations of stories.
Upon entering the theatre the stage is set up beautifully. Surrounded by flowers each with the story postcard on and a chair in the middle. The set itself is simple but the lighting makes all the difference. The monologue starts by describing to you your 25th birthday. And after the celebrations, after the candles get blown out, your life begins and so does the path of the show. The audience begins by choosing two story lines and the stories that don't get chosen are discarded never to be told – at least not this night.
Hayley McGee tells the story with a fire in her eye. The passion shines through each line and each word and 10 minutes into the monologue you are left completely captivated and in awe of her brilliantly beautiful storytelling. As I sat watching this play – this story unfold I could not get over how incredibly accurate it was. Hayley has this talent of taking common experiences and making you feel seen, making everyone feel as though you are in the same boat and on the same journey together. The only way I can describe that feeling is like when you are scrolling through Twitter and you come across a meme that hits a little too close to home. But in this show that feeling is almost validating, Hayley shows you that age is just a feeling.
I simply cannot express how many people need to see this show. Not just for its raw honesty but for how validating it can be. Watching this show as a 21 year old unemployed graduate really made me realise how precious life is and how everything happens for a reason. The show reminds you to stop and smell the roses and to cherish the time you have with your loved ones. I have never before seen a show that was as honest in its storytelling as this one was, as well as how validating it was to know that not everyone has to have their shit together by the time they reach 25.
Beautifully simple and honest this award winning show is a must see for your London theatre watchlist this autumn.