York Theatre Royal Studio – until Saturday 3rd September 2022
Reviewed by Michelle Richardson
5*****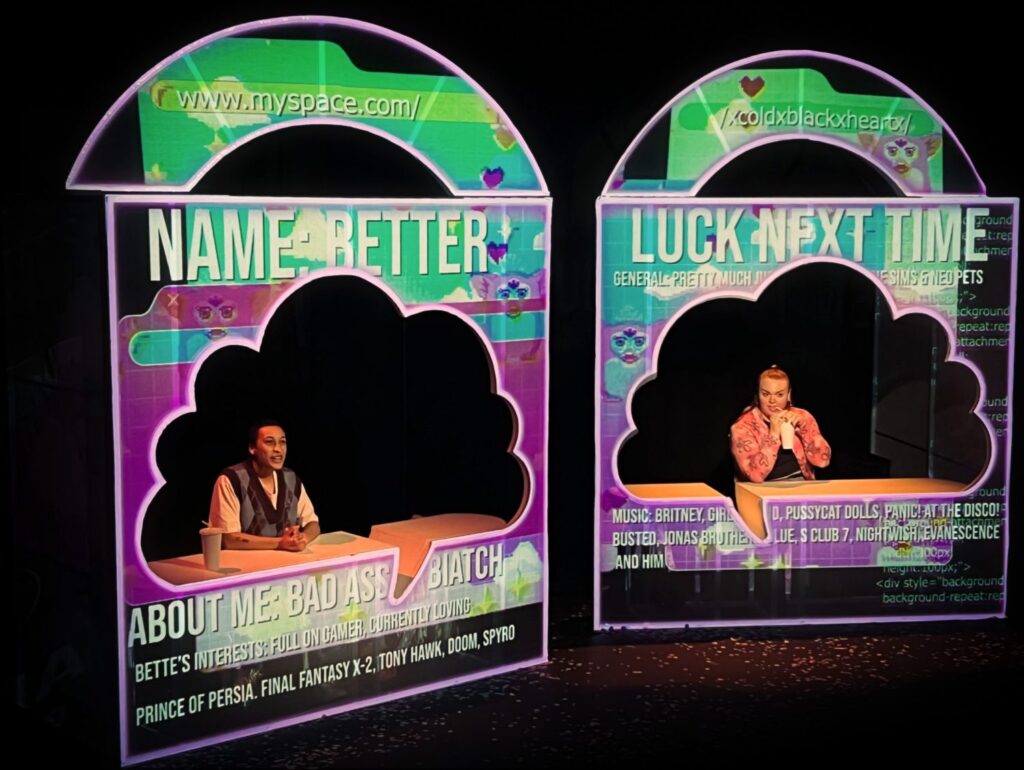 Coming straight from the Edinburgh Fringe, where it received a Fringe First, Tabby Lamb's Happy Meal, has hit York and is currently performing in the Studio at York Theatre Royal.
On entering the studio, we are greeted by two penguins. One going about their own business, the other enthusiastically waving at the audience, making sure that nobody is excluded, even if you're sitting there in your own world, until you realise that yes, it's you who they're waving at, you can't help but excitedly reciprocate.
Directed by Jamie Fletcher, Happy Meal tells the story of Bette (Allie Daniel) and Alex (Sam Crerar) who find each other on the internet as young teenagers. Starting off playing Club Penguin, hence the costumes, we see their relationship evolving through social media platforms as they grow up, from MySpace to TikTok.
Through their online conversations we get to see their relationship grow, even though they have never met in person. They can present themselves as whoever they want to be. They both have different vulnerabilities, but Bette appears to be the more confident one of the pair, but it is Alex who embraces his gender identity and talk about transitioning into Alec. This only highlights Bette's insecurities, not being confident enough to also come out as trans to her best friend. This ultimately leads to the friends falling out. As time goes on, they just can't ignore the strong bond that they have and reconnect online and finally meeting IRL (in real life). Bette is now comfortable in her own skin and can share who she really is.
The set comprises of two booths, designed as clouds, with rainbow arches above. It wasn't until the Q&A after that it dawned on me that they looked like Happy Meal boxes. Following the actors' interactions with the set, video is projected onto the booths, depicting the chat of the two, just as you would see it on a phone or tablet screen. Interesting to see how the online world can be transferred to stage.
Both Daniel and Crerar are excellent in their roles, bringing the stage and story to life, compelling to watch. You could not help but be invested in both their characters, we laughed and felt heartbroken along with them. They share great chemistry and Bette's statement of "I was born in exactly the right body. You were born in exactly the right body. These journeys we've taken were the journeys we were meant to take in order to find ourselves and maybe each other", was very profound and so heartfelt.
Happy Meal is a show about friendship, identity and is ultimately a heart-warming love story, a lot to pack into a show that is about an hour long. This delightful two-hander is labelled as a joyful trans rom-com for the MySpace generation, and the roles played by two trans actors. As someone who isn't a member of the LGBTQ+ community, I found it a really beautiful and insightful transgender narrative.
It is a wonderful piece of theatre, full of fun, and suitable for all. I implore you to go and see it. Playing in York until Saturday, then visiting Plymouth, Oxford and Coventry