Epstein Theatre Liverpool – until 1st January 2023
Reviewed by Jen Hughes
5*****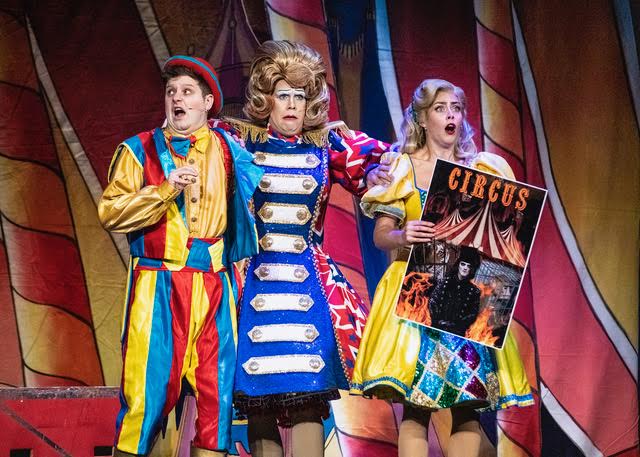 Straight to the point, don't wait until the end of the review to find out that this was the best Pantomime I have ever seen! You must, must, must see it if you can. A love story, a traditional tale, a circus, a concert, a comedy masterpiece and a delivering of the most spectacular costumes sparkling and shimmering across the stage.
This was an explosion of everything that is magical and fabulous about pantomime. Laugh? I haven't laughed like that in a long time, my cheeks ache and the challenges of the day melted away by the comedy genius of every actor that graced the stage. The humour finely tuned to the Scouse audience went down a treat.
Incredible dancing and circus routines blended beautifully with the story of Goldilocks ( Olivia Sloyan) who finds herself in alliance with three Scouse bears. But, will the bears escape the evil clutches of Baron Von Vippemall ( Timothy Lucas) ?
Lucas' panto villain is spellbindingly genius . The audience, young and old, were completely captivated by his tormenting evilness which he delivered with precision humour and menace . Seemingly so funny he made himself laugh at his maddening delirious depiction of a sneaky honey bee. His performances was outstanding.
Superb in her portrayal of the Dame Gertie, Mama G managed some seriously impressive costume changes and perfectly timed humour. Wonderful with the children in the audience and never missing an opportunity for a belly laugh, she dazzled as the Dame!
An absolute family experience not to be missed. Teenagers, toddlers and adults both young and old were dancing, singing and roaring with laughter.
If you want a pantomime like no other with lashings of jokes for the grown ups, then this is the one for you. Proper family fun, what's not to love about that !