New Theatre, Hull – until Saturday 4th December 2021
Reviewed by Anne Walker
5*****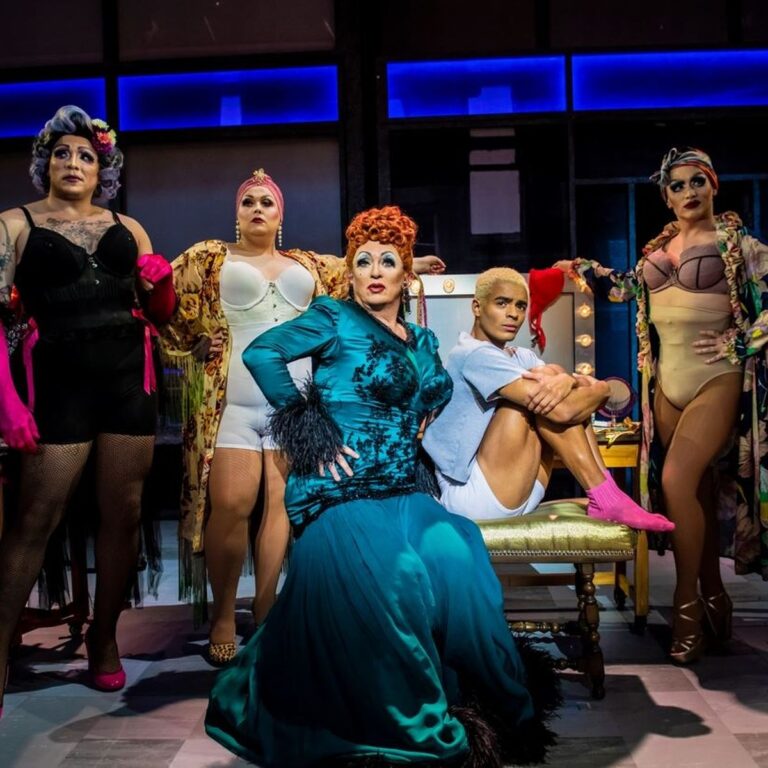 What an amazing feeling it is to go to the theatre and come away feeling so joyous and uplifted as we did after seeing 'Everybody's Talking About Jamie' by Dan Gillespie Sells and Tom McRae.
Much has changed in the world since this unapologetic musical made it's debut in Sheffield, the city where the story is set. The musical has become a West End hit and a film version has been released to bring this story to an even bigger audience.
The musical revolves around Jamie New, played by Layton Williams, inspired by the real life events of Jamie Campbell and his BBC documentary, 'Drag Queen at 16'. The show follows Jamie on his journey to fulfil his dream of being able to 'Step out of the darkness' and into extremely high heels, to be a drag queen and attend his school prom in a dress. There are many obstacles along the way, school bully Dean Paxton (played by understudy Ryan Hughes), highly strung teacher Miss Hedge (Lara Denning) and Jamie's absent father (Marlon G. Day)
Layton Williams dons the high heels and glitter effortlessly and shines in this lead role, brilliantly capturing the sass and fierceness whilst managing to retain just the right amount of vulnerability. If any person was to embody the meaning of 'star quality' it is Layton from the moment he steps onto the stage. Jamie also has lots of support in the form of his ever loving Mother, brilliantly portrayed by Amy Ellen Richardson, who performed the show stopping, soul wrenching, rendition of 'He's My Boy', you could of heard a pin drop as the whole theatre seemed to hold their breath until wiping their tears at the end. Shobna Gulati (star of Dinner Ladies and Coronation Street) plays Ray, Jamie's mum's best friend, brings comedy and one liners that made the audience laugh out loud and is fabulous in every scene she appears. Drag royalty, Bianca Del Rio/Roy Haylock reprises his role as Hugo/Loco Chanelle does not disappoint with great comic timing, wisdom as Hugo and outrageousness as Loco. Sharan Phull as Jamie's wise best friend Pritti Pasha is yet another stand out performance with beautiful vocals in her two solo songs. Special mention must go to the fantastic ensemble cast, who play Jamie's school friends, disruptive and supportive, bringing the show bang up to date with mentions of super-spreaders, masks and anti-bacterial gel. They also bring immense amounts of energy in the dance routines and group numbers.
A little problem with the set did not halt the performance in any way (a jammed door) and the performers dealt with this in their stride, delivering a knockout performance from the very start, leaving a sold out theatre on their feet.
Taking my 12 year old son along, being a budding musical theatre performer and a big fan of the show, (the stage version does have some swearing and innuendo) I looked for his opinion. He talked of the musical numbers he liked the best, his love of Layton Williams as a performance role model but he also mentioned diversity and inclusiveness. We talked after about the issues raised in the show and how important it is to get this positive message of acceptance and celebrating individuality out to everyone and what a fabulous way to do it!