Festival Theatre, Malvern – until Saturday 4th December 2021
Reviewed by Courie Amado Juneau
5*****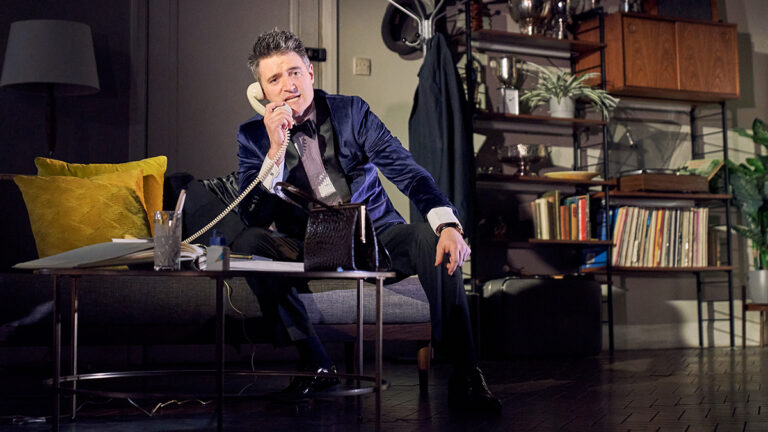 Originally set in the 1950s, Dial M For Murder quickly became a stage favourite before finding an appreciative cinema audience when Hitchcock directed the famous film version in 1954. This latest stage adaptation has been brought slightly up to date, being set in 1963, giving it a fresh new perspective. It felt less dated, with a bright spacious set and some classic 60's tunes greeting us upon our arrival and leading us directly into the action…
The cast were excellent, each giving a believable, enjoyable performance. Tom Chambers was engagingly sinister and humorous as lead Tony Wendice – especially humorous when removing fingerprints from a tennis trophy. He also showed his winning Strictly skills as he positively danced around the stage, spinning his evil web.
Diana Vickers was more grounded but no less effective in the other lead role of the wife, Margot Wendice. Her performance came to life during those scenes where her character was most confused, with events spinning out of control, showing acting subtlety that did the production justice (pardon the pun, given the subject matter). Michael Salami played the love interest, Max Halliday, with an appealing intensity.
But it was Christopher Harper playing the dual roles of Captain Lesgate and Inspector Hubbard who really stole the show. Captain Lesgate was nicely underplayed, giving a haughty air or authenticity, but it was with Inspector Hubbard that his performance really took off! There was more than a touch of Lt. Columbo in the air – although he didn't quite say the words "just one more thing" I felt that the spirit of that greatest of TV detectives was not very far away, especially when turning on a sixpence from conversational to accusatory and back again. A joy to watch.
The set (designed by David Woodhead, as were the costumes – both very stylish) was employed to great effect, achieving much from a clever design, especially in the kitchen area which doubled as other locations helping the narrative move along nicely.
The lighting (designed by Lizzie Powell) was exceptional. When coupled with The Beatles "Tomorrow Never Knows" to convey a descent into despair (as events took a darker turn for one of the lead actors) the effect was breathtaking!
And lastly, though certainly not least, composers and sound designers Ben and Max Ringham's use of music to add suspense was astonishing. To deploy the orchestral crescendo from A Day In The Life from Sgt Pepper where they did was a masterstroke – thrusting us into the action in a way that I had not encountered before in a stage production. The whole soundscape was filmic in its execution with some juicy orchestral stabs and scrapes very much evoking the musical signatures Hitchcock employed.
This play would be worth seeing just for the lighting and soundscape alone (which I would give 6 stars if available) but coupled with stellar performances from the cast and an engaging tale with a nice twist to undo the villain – a thrilling evening which I thoroughly enjoyed.