Theatr Clwyd, Yr Wruddgrug – March 18th 2023
Reviewed by Julie Noller
5*****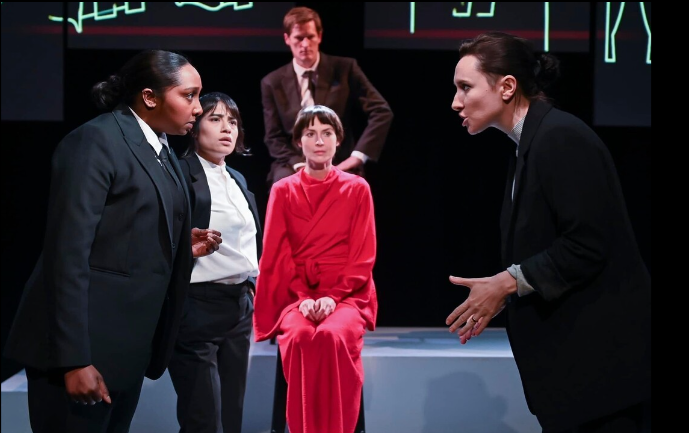 If Google or Wikipedia were available as 3D images and not restrained to phones and laptops then Edith fits that bill exactly, it appeals to those with a love of knowledge, history and true crimes. The work of award winning theatre company Crowded Room who specialise in productions based on true stories designed to get people talking; exploring the criminal justice system, mental and physical health.
Written by Harriet Madeley and Directed by Madelaine Moore, Edith explores a century old crime. In 1922, 28 year old Edith Thompson was tried for inciting her husbands murder; twelve members of the British public only one of whom was female would decide if she lived or faced the gallows. As we are informed from the outset this is a play based on the court transcripts, it has delibrately been shortened into snippets obviously as a week long play might be too much for most of us.
The cast of 5 are brilliant taking on different witnesses/ accused with differing accents to boot from Ivy Corbin as Edith an emotional women not wanting to grow older sometimes tearful its obvious she lives a life of escapism. Mark Knightley is Percy (the victim) and also our Judge. Percy is a man of the era, escaped the war due to heart issues some would say he dominated his wife but that is apparently hearsay, he is jealous his wife does not adore him. Peyvand Sadeghian is Freddy Edith's potential lover, eight years her junior and perhaps eager to please. In opposing corners we have Harriet Madeley (our writer) for Defence and Rose-Marie Christian for the Prosecution.
Each court day is broken up with a short three minute interval accompanied by the kind of easy listening music you find irritating whilst on hold. It is not entirely a serious affair there are flashes of humour such as repeating please be upstanding for the Judge until we did all actually stand up. On the four screens behind the actors we see snippets played testimonies of witnesses and the faces of Edith and sentences of those letters written to Freddy which way would you sway if you were one of the twelve jurors?
It highlights just how information is given can alter your perception. Not forgetting the era 1922 just a few years after the end of the Great War, men wrote the rules and women were not meant to break them. Such a great concept that could be used to showcase many crimes that have been committed over the years. As the play was beginning those screens flashed many females we have witnessed being tried for crimes they may or may not have committed. There was disdain for the likes of Myra Hindley and an inhale of breath for local nanny Louise Woodward. Are these women we see before us cold calculating criminals or harassed women snapped and the puppets of the men in their lives. These are the questions we are faced with thanks to Edith and I really don't know what I believe.
Fantastic concept that really shakes up your inner most thoughts and feelings I encourage anyone if you have true faith and confidence in our justice system to go along and witness that faith shaken to the core. You know the actual 1922 outcome but will you agree?