Kings Theatre Portsmouth- until 31 December 2022.
Reviewed by Lorna Hancock
4****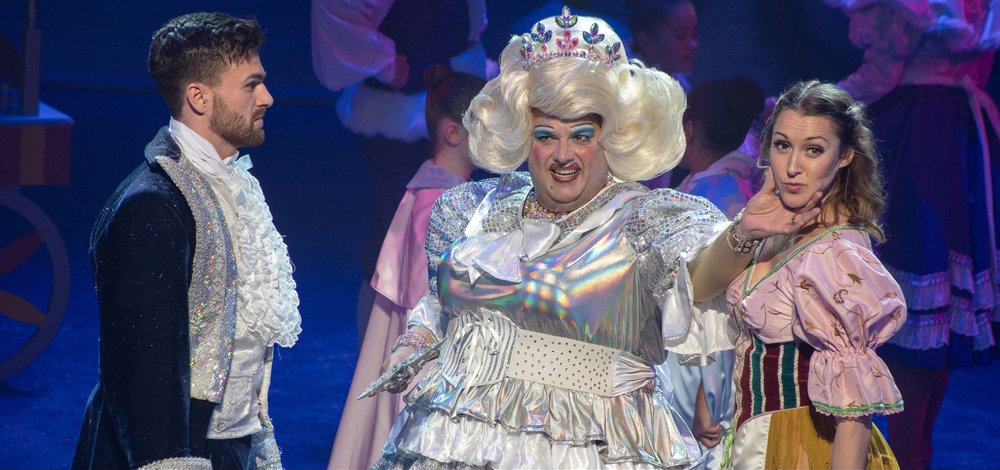 It was such a pleasure to have the opportunity to review this years 'Pompey Panto' at the stunning Kings Theatre. When I got this chance, I thought who better to assist me with their opinions on this 'family panto' than my 9- and 11-year-old daughters, and they were thoroughly excited and more than willing to help. From the moment we entered the foyer, the decoration filling the beautiful Grade II listed proscenium arch theatre made it immediately apparent we were in for a magical evening.
Directed by Will Kenning with an original script by Paul Henry, adapted by Jack Edwards and Paul Woolf. The Kings pride themselves on their 'local' panto, from their regional jokes to this years 'Search for Cinders' campaign trawling the community for local talent to take the title role. This is the 88th pantomime produced at the theatre, so there is no doubt they are experts in the genre.
The show begins with a bang, as extremely talented Jack Edwards appears on stage as the Fairy Godmother, Fairy Twinkletoes. The self-acclaimed 'fat man in a dress' with his witty quips and silly humour, he quickly set the tone of the evening and had the audience laughing out loud, especially with his attempt at flirting with a poor unsuspecting dad in the front row.
The show quickly moves on to introduce the other characters, with an impressive vocal entrance from Michelle Antrobus as Cinderella, to Queen's 'Don't Stop Me Now' surrounded by the casts gifted dancers. It was lovely to see the children back on stage dancing again showcasing more local talent, after having to stop due to the pandemic. Unfortunately, there was a small technical issue, causing the show to halt briefly, however the cast dealt with it very well making light of the matter, and the audience didn't seem to mind. If anything, it added to the natural chaos of pantomime.
Lovestruck Buttons was magnificently played by Joe Rowntree, his comical expressions and impersonations were hilarious. We absolutely loved his comical sleigh sketch, and along with Fairy Twinkletoes his 'wheelbarrow of pun' was one of my 9-year-olds highlights.
Julia Worsley and Harry Howle are perfectly boo-able as Cinderella's stepsisters Polyfilla and Nutella, with their frightfully fabulous outfits. As a contrast the charming camaraderie between Prince Charming (Grant Urquhart) and Dandini (Phats and Small's Ben Ofoedu) was delightful to watch. After much refusal we were even treated to a live performance of Ofoedu's debut single 'Turn Around'.
There is so much I could say about this dazzling performance I couldn't possibly fit it all in, so I'll move on to a few of our highlights. The flying carriage scene, along with snow and sparkly dancers, accompanied by the powerful vocals of Edwards singing 'Pure Imagination' from one of the boxes, was absolutely spectacular and magical to watch. We also completely loved Ofoedu's 'Boom! Shake the Room', with Rowntree leading the dancers with attitude in their wild party scene at the ball. 
As the 2nd act draws towards the end, hearing the instrumental intro to the King's trademark panto song; their own version of the 'Twelve Days or Christmas', I looked at my children and saw the elation on their faces knowing that the bit they had been waiting for was about to begin… Soon toilet rolls were flying, the entire audience was singing and clapping along whilst getting 'lightly' splattered by water pistols, to adapted lyrics I'm sure I'll be hearing at home long into the new year.
Packed with all of the pantomime ingredients you would expect, it was a thoroughly fantastic evening…. "Oh yes it was".