Children's Creativity Celebrated on Stage at The Lowry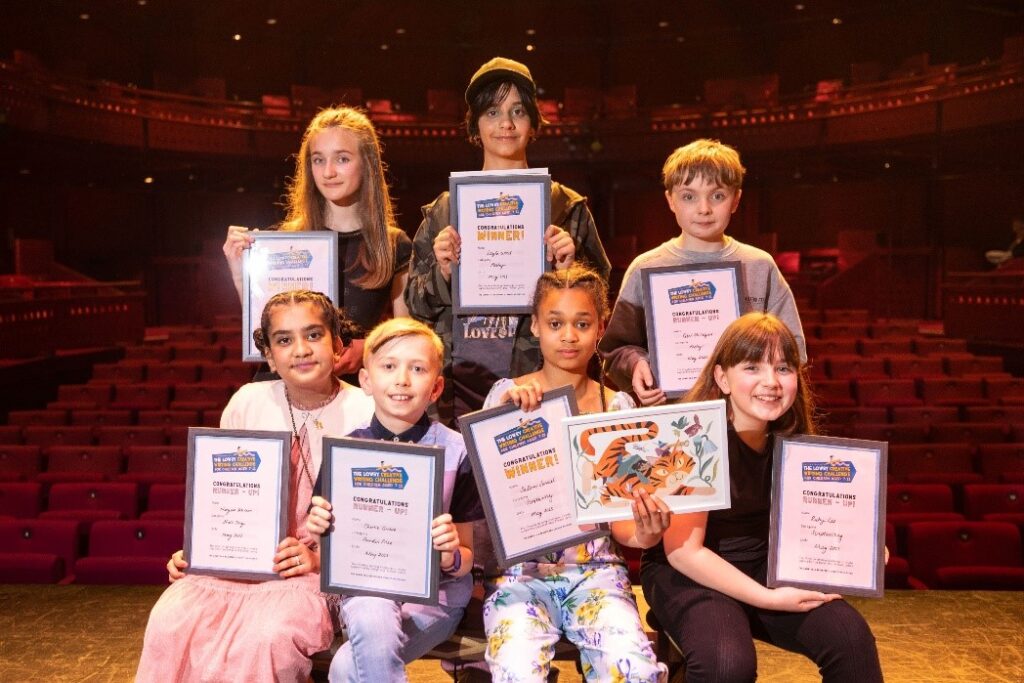 The winners of The Lowry's first annual Creative Writing Challenge were announced at a special celebration event on Thursday 18th May.
Presented by Manchester-based actor, writer, and director Carla Henry, with performances by poet Tony Walsh, the 16 shortlisted entries were performed on the Quays stage at The Lowry, Salford.
Open to children aged 7-11 (Key Stage 2) from across Salford and Greater Manchester, the judges, who included actor Carla Henry, writer and actress Samantha Giles, performance writer and spoken word activist Emma Rogerson, playwright Simon Stephens, poet Tony Walsh, screenwriter and children's author Frank Cottrell-Boyce, and Programme Manager at the National Literacy Trust, Mike Leyland, had the difficult task of shortlisting from almost 400 entries in three categories – Script, Poetry and Short Story.
Winners and runners-up include; in the Script category – (winner) Salome Samuel (age 10) for Freya's Amazing Adventures and (runner-up) Ruby Lee (age 10) for Alien in Manchester. In the Poetry category – (winner) Layla Wood (age 11) with The Journey, and (runner-up) Peter McColgan (age 10) for The Lonely Man. And in the Short Story category – (winner) Gabriela Kulacz (age 11) for In The Box, and (runner-up) Maryam Akram (age 10) with Return To Kandahar.
A special Founders Prize was awarded by Beryl Jones to (winner) Hawa Chowdhury (age 9) for their piece The Adventure of The Oak Tree and (runner-up) Charlie Grieve (age 10) for The Rivers Adventure.
All shortlisted children and runners-up each received a certificate and book token, with the winners also receiving an original illustration created by artist and illustrator Catherine Booth.
Other shortlisted entries who performed on the night included: Maariyah Ahmad (age 10), William Maher (age 11), Eve Bennet-Mould (age 10), Andaz Amin (age 11), Éowyn McDonald (age 9), Isla Hickey (age 11), Kaio Devine Dos Santos (age 7), and Rosanna De Martiis (age 9).
Layla, a pupil at Marlborough Road Academy (Salford) whose poem 'The Journey' was inspired by refugees traveling to unknown places said "My school teacher entered my piece into the competition. It was fun. I made a lot of new friends and enjoyed watching the other pieces being performed. Getting up on stage was nerve-racking but the moment I began to read my poem all the nerves disappeared. This has inspired me to write even more and enter more writing competitions. The whole experience has boosted my confidence."
Carla Henry said "What a pleasure and privilege to have been part of The Lowry's first ever Creative Writing Challenge. Fabulous memories were made! It was beautiful to see such creative and talented young people sharing their words with such confidence and joy. I felt so proud and inspired!"
Tony Walsh said "It's been a delight and an inspiration to be involved with the first Creative Writing Challenge with The Lowry. The competition uncovered a huge wealth of young writing talent in all parts of Greater Manchester. To see many of them visiting The Lowry, some of them for the first time, and even taking to its famous stage to share their work, was a night which will live long in the memory."
The Lowry's Creative Writing Challenge is delivered in partnership with the National Literacy Trust, an independent charity dedicated to raising literacy levels across the UK.
Jenny Riding, Director of Learning and Engagement at The Lowry "We work with thousands of young people every year and we have seen the devastating impact the pandemic has had on those who were already facing the biggest challenges. Our Creative Writing Challenge has inspired children to use their imagination and develop literacy and oracy through creativity. We could not have done this alone; it has been wonderful to work with teachers and artists in schools and to begin a new partnership with the National Literacy Trust."
Mike Leyland, Programme Manager, National Literacy Trust: "It was an absolute privilege to join as a judge for this fantastic creative writing challenge and meet the young writers at the awards ceremony. It was so inspiring to see the incredible work they produced as research from the National Literacy Trust shows that children who enjoy writing outside school are seven times more likely to write above the expected level for their age. Our partnership with The Lowry is invaluable as projects like this play a vital role in supporting children's literacy, encouraging them to find a love of reading, writing, speaking and listening, that will last a lifetime."
The competition has been made possible thanks to the generous support of Beryl Jones, who along with her husband Trevor is a Gold Patron of The Lowry. The launch of this new award is timely given the post-pandemic need for support in education and creativity being greater than ever.
Julia Fawcett OBE, CEO of The Lowry said "We feel so passionately about the creation of this prize, to be able to encourage the creativity and confidence of the next generation of writers and performers is a true privilege. I want to extend my heartfelt thanks to Beryl and Trevor Jones whose generosity has made this possible."
Beryl Jones, Gold Patron of The Lowry said "I am passionate and dedicated to children's creativity and removing any barriers they may experience to enjoying and creating great literature and performance. Thank you to the team at The Lowry for launching the Creative Writing Challenge this year and I look forward to working with them to grow it in the future. Seeing the children present their work on stage at The Lowry was a true joy and my dream come true."
The Creative Writing Challenge is a 5-year project. Related to the competition a support scheme is available to primary schools in Salford and Greater Manchester, to register your interest please email [email protected]. The Lowry has also developed free downloadable lesson plans for Years 3, 4, 5 and 6 which can be accessed here visit thelowry.com/creativewritingchallenge