The Lyceum Theatre, Sheffield – until 30 October 2021.
Reviewed by Sophie Dodworth
4****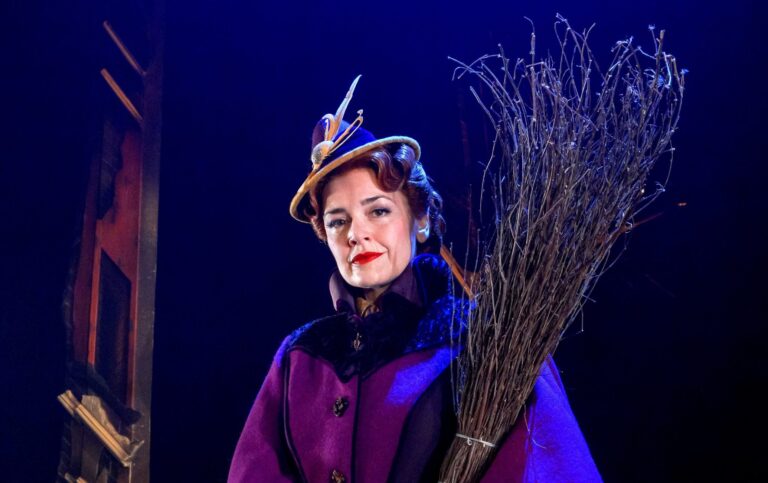 Upon entering the auditorium at the Lyceum, you are aware of the buzz created by the excitement of the upcoming performance. Many children are present to see this show, which was originally made for people of that age. However, you also have the adults ready for a good reminisce, that lovely feeling you get when you are catapulted back to your childhood and can almost feel those carefree days…if you are after that, then this is for you. The quintessentially British Bedknobs and Broomsticks will give you a belly full of comfort as it whizzes you back fifty years.
The story is set during World War 2 and follows 3 evacuees Charlie (Conor O'Hara), Carrie and Paul. They are sent to live with Miss Eglantine Price (Dianne Pilkington), who, as it turns out is an apprentice witch. Charlie blackmails Miss Price that if he is to keep her witchcraft a secret, she must give him something, so she takes a bedknob from her late father's bed and places the "famous magic travelling spell" on it, but only Paul can make the magic happen. They first land in London where they meet Emelius Browne (Sam Lupton) who is a former headmaster of a witchcraft school, Miss Price explains to him that she has a plan to find the magic words for a spell known as 'Substitutiary Locomotion', which brings objects to life…
Where to start with the cast?! There are far too many to mention in a short write up. The 2 youngest children and were just perfect, the voice on Paul was just so sweet and well trained, he performed perfectly! He never looked at the audience, he was totally engaged and had his 'stage face' on at all times, truly a professional in the making. O'Hara fitted in to playing a much younger role very well, a task that must take some real effort. The voice of Pilkington was beautiful and shone during all of her lead numbers. The comedic talent of Sam Lupton stood out and he gained collective giggles from the crowd more than a few times. But the real undebatable talent of the entire ensemble really made this show, never has there been a more suitable cast! There were some outstanding performances here and without them, there would not be anywhere near as magnetic. Huge credit especially to Susannah Van Den Berg, who was just mesmerising and so committed to her role, and even though only on stage for minimal time compared to the mains, that time was invaluable.
The puppetry section of the show was superb, extra claps to Matthew Elliot-Campbell for taking the stage by storm and grabbing the audience by their collars with his performance as the Lion.
Highlights of the show, without a doubt, was the musical number of Portabello Road, what a number! This was the first time that you really see full use of the entire stage. You get dancing, singing, harmonising, extravagant costumes and a whimsical atmosphere! It truly is a magical number, what a treat!
Maybe the show is slightly too long for the youngest people in the audience at 2.5 hours and maybe there could be a few more big chorus numbers like Portabello Road and The Beautiful Briny Sea, but still, this show is a dreamy, wonderland, wonderful hit.