Lilian Baylis Studio, Sadlers Wells, London – 2nd June 2023
Reviewed by Dawn Bennett
5*****.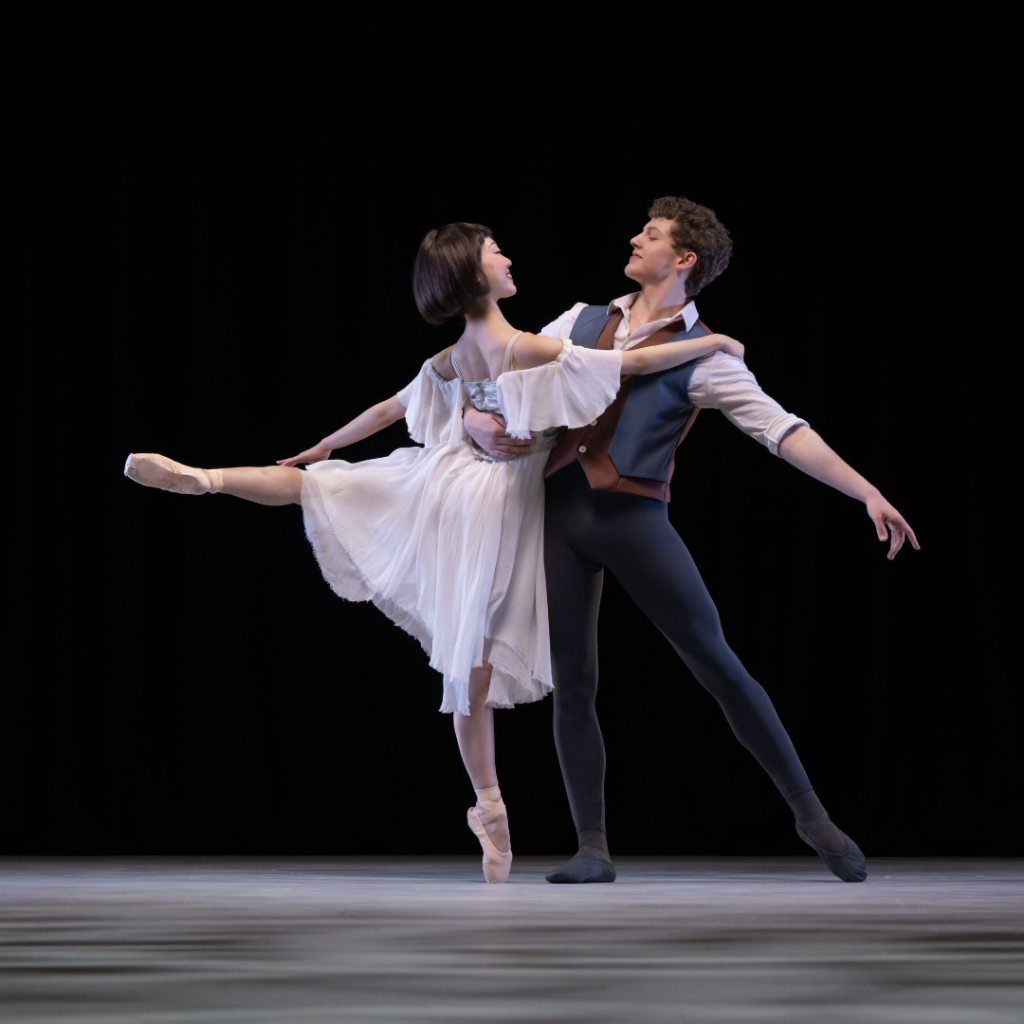 Ballet Central are the touring company of Central School of Ballets 3rd year degree students. The school was formed in 1982 by Ann Stannard and the late Christopher Gable CBE in London. Now under the tutorage of Kate Coyne (Artistic Director) and Hannah Rudd (Artist in Residence) they are taking part in a 14-date tour that finishes at the Britten Theatre on 13th July 2023.
Working with renowned chorographers the students perform the 6 following pieces and last night I had the pleasure of watching them.
Monotones 1 (Choreography by: Sir Frederick Ashton, Music: Erik Satie, Staging: Lynn Wallis) was danced at this performance by Nina Aizawa, Xavier Andriambolanoro-Sotiya and Nicola Kilmurry. This piece was first performed in 1966 at the Royal Opera House. The dancers were lovely to watch, their timing poise and movements were both elegant and together. The Pas de Trois was beautifully portrayed with excellent characterisation and strength.
The Two Pigeons (Choreography by: Sir Fredrick Ashton, Music by: André Messager. Staging Isabel McMeekan) was danced at this performance by Samuel Pitman and Jasmine Whitford. The dancers gave us a beautiful, heartfelt performance with lovely lines and emotion. They were very expressive and fabulous to watch.
Blind Optics (Choreography by: Darshan Singh Bhuller, Music by: André Messager) Darshan trained at London Contemporary Dance School is a renowned Artistic Director, Choreographer, Teacher, Dancer Film Director and Editor. The piece last night was brilliantly performed by the group of dancers. From music to the sound of the sea the dancers moved like water. Fluid at times and angular at others, I really enjoyed this choreography and there was movement all across the stage, I found it hard to know where to look to capture and take in all the dancing.
Mirror Mirror (Choreography by: Michael Pink, Staging: Jayne Pink, Music: Philip Feeney). The work by Michael Pink is a contemporary adaptation of Snow White that was created in 2014 for Milwaukee Ballet (where Michael is Artistic Director). This piece was fabulous to watch, it was joyfully danced with each dancer playing their parts brilliantly. Their timing and team work was excellent and the story was easy to follow and told really well with some great acting taking place.
Dextera (Choreography by: Sophie Laplane, Staging: Thomas Edwards, Music: Wolfgang Amadeus Mozart). Sophie Laplane is a Franco-British Chorographer who is Chorographer in Residence with Scottish Ballet. This piece was really clever and quirky with the male dancers moving the female dancers into different shapes, moving them like puppets or mannequins, The costumes were simple and effective and really added to the piece.
The Queue (Choreography by: Morgann Runacre-Temple, a freelance choreographer from London, Music; Philip Feeney and ABBA). This piece was great fun, we know how people like to queue and how you always end up in the slow one, or the wrong one…oh and the queue jumpers! It was funny and brilliantly danced!
This show is danced by students but it is a very professional production. This is a very talented company and well worth a watch to see the dancers of the future.