Theatre at the Tabard – until 17 June 2023
Reviewer Alec Legge
4****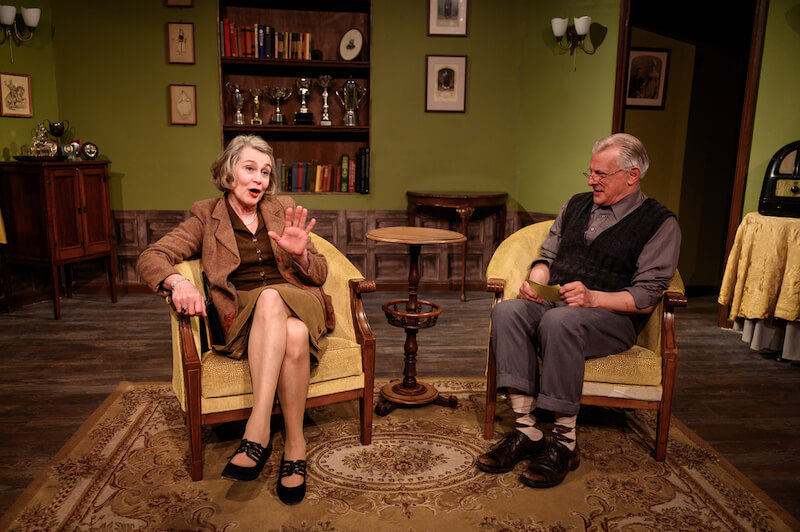 The play is set in the study/bedroom of James Agate's apartment located in Holburn the period being World War 2. James Agate was a well known diarist and theatre critic who wrote for, amongst others the Manchester Guardian and the Sunday Times. He also worked at the BBC. He was briefly married in his early life but after the marriage ended all his intimate relationships were homosexual which I only mention due to it's relevance to the play.
The characters were played by, Jeremy Booth as Agate, Barbara Wilshere as Gwen an actress, David Acton as Leo an exiled Austrian Jew who was James secretary, and last but not least Sam Hill as Spike the houseboy. All the actors gave first class performances ,their timing being impeccable as was their dialogue. Both Gwen and Leo were also depicted as being gay.
The play itself has many funny moments most being the result of James gay activities, involving amongst others Guardsmen and a flight from a male brothel as a result of a police raid, but there are moments of real pathos as well including when James was nearly fired from his employment at the Sunday Times as a result of the tyrannical owner finding out about his gay activities, as being a theatre critic was his raison d'etre.
In respect of the pathos, I would particularly mention Leo, who was a classical pianist, describing his last concert in Vienna which caused him to suffer from extreme stage fright and being unable to play in public again. His description of what happened really tugged at the heartstrings! Gwen helping him to overcome his stage fright and perform again in public was uplifting.
Sam Hills performance as the confident, unshockable houseboy Spike, was masterful and really added humour to the play.
This is a theatre over the Tabard Public House, Bath Road, London W4 1LW, about 5 minutes walk from Turnham Green Underground Station. It is accessed by a set of steps leading up from the pub garden but with no wheelchair access. It has 96 seats on an incline so the stage in front of the seats is in full view from all seats. Unfortunately during the quieter moments of the play the voices of the pub patrons downstairs were audible which I found distracting.
Gareth Armstrong, the author, has written a jewel of a play which he obviously researched extremely well. His depiction of the homosexual elements of the play were in context with the story line and were neither shocking or sensational.
I enjoyed the play immensely and would recommend it wholeheartedly.