Aylesbury Waterside Theatre – until 2 January 2023
Reviewed by Sue Portman
4.5****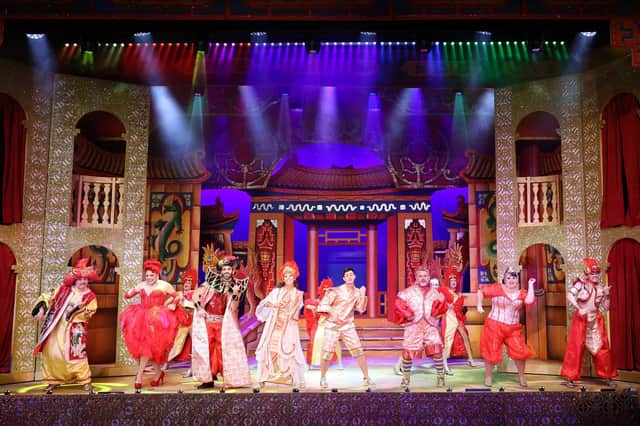 Let's be honest, you cannot really go wrong with a good old traditional Panto, and you simply shouldn't be there if you don't think this way.
Aladdin is one of the favourites on the Christmas circuit, and the Waterside Theatre in Aylesbury pulled out the stops for an extravaganza par-excellence.
So, what do we all want from a Panto? Plenty of colour, innuendo, gags and laughs. We demand a flamboyant dame, improbable costumes, a baddie to boo every time they appear on stage and some great music and stage props to boot. Did I forget the cast and crew? The good news is, this production has it all. Aladdin has been presented in so many ways over the decades – is there a new way to present this classic? Well, clearly yes there is.
Here is the official advertising…
We are delighted to announce that the devilishly good Davood Ghadami (EastEnders, Casualty, Holby City, Strictly Come Dancing) will be joining us as the evil Abanazar in Aladdin this Christmas!
Starring alongside the hilarious Andy Collins (BBC 3 Counties Breakfast Show) as Wishee Washee and the fabulous La Voix (Britain's Got Talent, Queen of the Universe) as Widow Twankey, this is going to be a carpet ride to remember!
Expect fun by the lamp-load, stunning costumes, sensational song and dance numbers, and an adventure full of memories to treasure.
Rub the magic lamp and book your tickets now if you haven't already!
The first half of the show began with Jenny O'leary (Spirit of the ring) singing so impressively that I wondered if this could be bettered by anyone else. In my view, it wasn't, but fine vocal performances from the likes of La Voix and Andy Collins were also very impressive.
The storyline of course is that the poor commoner Aladdin falls in love with Princess Jasmine and has to navigate his way to her. Her father the Emperor (played proficiently by Vas Constanti) and the evil magician Abanazar (Davood Ghadami) wish to prevent their marriage. The Emperor wants someone with a better social standing for his daughter and Abanazar rather fancies her for himself – the villain! Aladdin, played with gusto by Kian Zomorodian was energetic and professional in his craft, but I would like to have seen him come to the fore a little more as the main character. In a way I felt the same of Melanie Elizabeth, ably playing the Princess Jasmine but it must be nigh on impossible to outshine the likes of Collins and La Voix.
Whilst all of the cast were excellent, for me the performances of Andy Collins (Wishee Washee) and La Voix as Widow Twankey were the most impressive. In this confusing technological age, it was amazing to witness how a simple scene with two people and a few balloons could produce raucous laughter from the audience. The choreography set to classical music was hugely memorable and a brilliant concept.
I felt that these two had the best rapport with the audience, but in fairness this was probably due to the roles that they played. La Voix was absolutely brilliant and knew how to squeeze every last drop from the enthralled onlookers, with prepared lines and ad-libs alike. And what of the audience? The Waterside was packed, stuffed to the gunnels as it was with children and adults. True, some of the innuendo was very close to the bone for youngsters but Panto is Panto and it caters for everyone. That's what makes it work.
The youngsters in the ensemble gave their all and never let anyone down – credit to their passion and hard work in rehearsing for this memorable production.
I must mention the other aspects of Panto – the interaction with the audience. I was belly laughing at the water pistol fights as 'Wishee Washee' duked it out with the audience and he got as good as he gave when he waded into the gleeful and expectant crowd.
Then there was a gorgeous moment towards the end when he pulled four young lads out to help sing 'Old Macdonald had a Farm' and they made various animal noises. I have not laughed so much for ages. Those kids stole our hearts and Collins was a master at getting the best out of them.
The music was perfect for the scenes, and indeed the songs were contemporary and older in number. The stage props, costumes, and scene changes were excellent and the lighting created the necessary atmosphere in the theatre. Credit must be extended to the director and technical staff for that.
We have all endured some tough years what with Covid-19 and lockdowns, as well as the current recession and cost of living crisis. There have been many times when we all needed to laugh, to forget our troubles. If we could have rubbed a lamp, summoned a genie and simply disappeared on our own magic carpet to another place, we would have. Well for one night, you can. You cannot go wrong with Panto; it is a colourful, happy medicine in a sometimes ailing world.
I implore you to go and see it for yourself. Ticket prices are very reasonable and you (and the kids) will be guaranteed a laugh, to kickstart your Christmas.