Apollo Theatre – until 7 September 2023
Reviewed by Claire Roderick
4****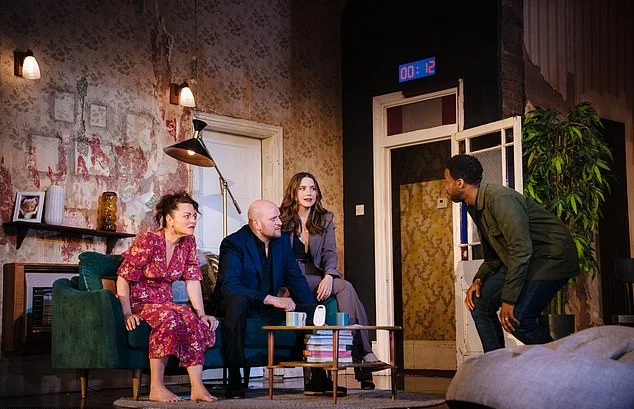 Another theatre, another cast for Danny Robins' slick and suspenseful ghost story. And what a cast!
Set in an old house that is being gentrified by married couple Jenny (Jaime Winstone) and Sam (Clifford Samuel), the couple host a dinner party for Sam's university friend Lauren (Sophia Bush) and her new partner Ben (Ricky Champ). Sam's passion for astronomy and science is dwarfed by his insufferable need to prove he is the cleverest person in the room, and his arrogant contempt for builder Ben soon descends into petty point scoring. Jenny's account of the ghost that makes itself known at 2:22 is met with disbelief from all but Ben, but her plan for the group to stay and witness what happens in her baby's bedroom is accepted.
As the group get drunker, scientific and spiritual discussions and quizzes become more heated, with unexplained happenings and many well-timed jump scares thanks to the noisy foxes in the garden. Alongside the spooky goings-on, the couples' friction and disagreements involve class, gender and intellectual prejudice, with Ben bearing the brunt of Sam's disdain.
This slow burn plot throws numerous explanations for what is going on into the mix as the tension builds, with prominent digital clocks counting down the time until the ghost is due to appear. Anna Fleischle's set becomes a fifth character, with layers of old wallpaper revealed on the walls and Sam's pride and joy – huge glass windows and doors in the half-finished room – feeling alien in such a building and making the idea that the house has turned against the family completely believable. Lucy Carter's lighting and Ian Dickinson's sound design are judged perfectly to make the audience jump, and director Matthew Dunster cranks up the pace of spooky scares in the second act, leaving some members of the audience gasping as the haunting is finally explained.
The amazing cast have incredible onstage chemistry, with lots more drunken clowning and more laughs than I have seen in previous productions. Ricky Champ is hilarious as Ben, playing to stereotype at first, and then revealing the layers of sensitivity in a wonderfully nuanced and scene stealing performance. Sophia Bush is wonderfully snarky as Lauren, but becoming softer and more exposed as her sadness and pain are revealed. Clifford Samuel excels as pompous Sam, putting the audience's hackles up as he belittles his wife, but gradually winning them round as Sam's anxieties and need to be loved become clearer. Jaime Winstone is wonderful as Jenny, vulnerable and uncertain as the play begins, but finding strength through her anger and fear for her child as the night progresses, with the power dynamics between her and Sam reversing by the end of the play.
2:22 goes from strength to strength, and with a tour planned, those pesky foxes will be making audiences across the UK jump. This London production is thrilling, chilling and a wonderful modern take on traditional ghost stories.