Cambridge Arts Theatre, Cambridge – until Saturday 11th March 2023
Reviewed by Steph Lott
4****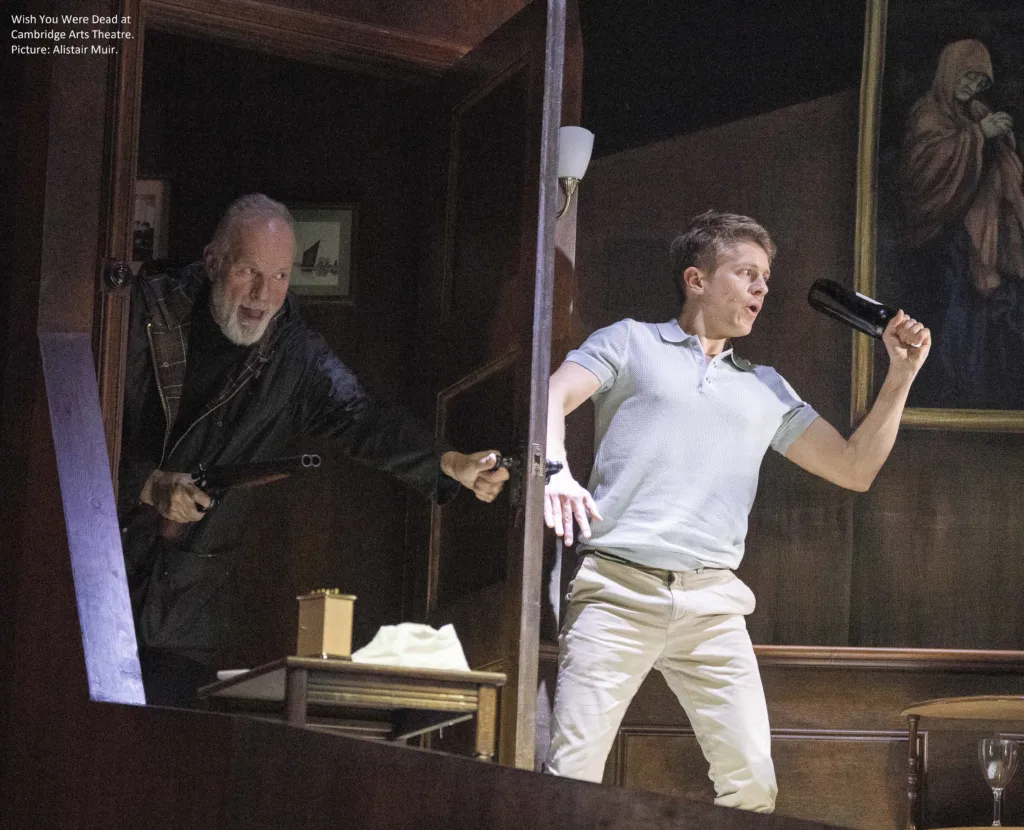 When Roy Grace, wife Cleo and their baby Noah, plagued by poor directions, terrible weather and darkness falling, arrive at their dream holiday destination, the Chateau-sur-L'Eveque, all is not what it seems. Tired and late, with no-one to greet them, no phone signal or wifi, they decide they will rest and re-assess the situation in the morning. Unfortunately, the dingy chateau holds more mysteries and threats beyond the sinister gloomy decor and mangy animal heads on the wall. Who is the mysterious Madam L'Eveque who begrudgingly greets them and why does she speak with such an odd accent? Why is there a large painting of the Crucifixion of Christ hanging in the Honeymoon Suite? Is there someone in the suit of armour?!
Peter James' Wish You Were Dead is the latest stage play by the author featuring Detective Roy Grace. It's been adapted for the stage by Shaun McKenna and is directed by Jonathan O'Boyle. This witty romp is a mixture of domestic drama, a gothic murder mystery and entertaining farce, all in one. The story is rather weak in my view, but the excellent script and superb acting make it a lot of fun.
The stage design, by Michael Holt, is very clever and encompasses both the bedroom and the living room. The lighting, by Jason Taylor, creates a very atmospheric and haunting environment which draws the audience in from the start. It's definitely more haunted house than French château!
This stage adaptation of Peter James' novella Wish You Were Dead contains all the ingredients for a good night out at the theatre. This is an enjoyable production with an engaging story. The tensions begin and build in a pacy Act One. I haven't read any of the Roy Grace series so there were a few twists that had me wondering what would happen and how Grace and his family would escape. There isn't a lot of attention paid to developing the characters or back story as the main characters are already established favourites with a lot of the crime and thriller fans in the audience I would imagine. As a story it is quite far-fetched. However, the acting is what really makes this show. It has a star-studded cast featuring Casualty regular George Rainsford playing Roy Grace, with Giovanna Fletcher, playing wife Cleo Grace. They provide an excellent contrast to the undoubted stars of the show for me – the baddies, who get all the best lines! Clive Mantle, who played Consultant Mike Barrett in Casualty and has a string of other theatre, radio credits to his name, plays bad guy Curtis with great aplomb. Rebecca McKinnis playing Madam L'Eveque is fantastic. And I thought Callum Sheridan-Lee was suitably menacing as Brent.
Overall, Wish You Were Dead is a thoroughly enjoyable crime thriller which doesn't fail to entertain. The talented cast have an absolute ball with it and consequently so do the audience.