WISE CHILDREN CELEBRATE THEIR FIRST FABULOUS FIVE YEARS
BY OPENING THEIR NEW HOME, THE LUCKY CHANCE, WITH A MAGICAL RETELLING OF
THE LITTLE MATCHGIRL AND HAPPIER TALES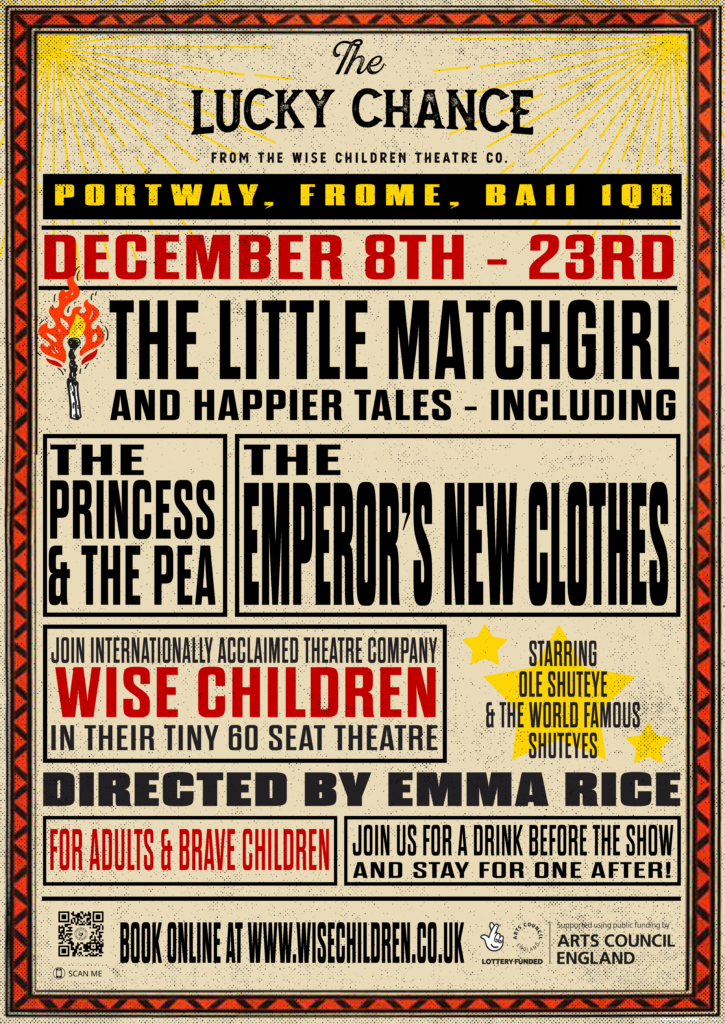 Internationally acclaimed touring theatre company Wise Children celebrate five fabulous years since launching in 2018, by throwing open the doors of their new home to the public for the very first time this festive season. Based in Somerset, The Lucky Chance will be launched as Wise Children's new base with a magical retelling of The Little Matchgirl and Happier Tales directed by the company's Artistic Director Emma Rice to mark the occasion.
The production kicks off with an open dress rehearsal for local residents on 5 December and runs until 23 December.
In tandem with the new production, Wise Children has launched an access initiative for schools, with performances on 5, 6 and 7 December being offered free to local Frome primary schools.
Artistic Director of Wise Children, Emma Rice said, "These last astonishing 5 years have been a testament to all the dedicated artists, curious students, brave creatives and big hearted audiences that make up the wonderful community of Wise Children. My life has always been a glorious and joyful exploration of stories with the principles of ensemble and imagination at its heart. It is a privilege to still be able to dedicate myself to this work and I couldn't be prouder of all we've achieved – and in such a short time! Like a child at Christmas, I am excited and thankful to finally be sharing our new home, The Lucky Chance, with the public. And what better way to welcome them in but with this with this poignant jewel of a show – The Little Matchgirl and Happier Tales."
The Lucky Chance, based in Frome, Somerset, was originally a Methodist Church, built in 1910. Over the past year, Wise Children have refurbished and repurposed it into their creation space, and a temporary, 60-seat venue. This Christmas, the intimate space will come to life with a show full of warmth, wit and wonder.
Since their inception in 2018, Wise Children have produced five critically acclaimed original productions – Wise Children, Malory Towers, Romantics Anonymous, Bagdad Cafe and Wuthering Heights – which have been seen by over 240,000 people in 20 cities in the UK and internationally. Over the past 5 years, they have partnered with leading arts organisations, such as the National Theatre and London's Old Vic, and their work has also been commissioned by the BBC and Sky Arts, with films reaching an estimated 300,000. Wise Children are one of only a handful of companies touring ambitious, large-scale productions across the country, ensuring that audiences outside London have access to world-class theatre.
In addition to touring, the company created The School for Wise Children to address inequalities in the industry, particularly in backstage roles. Through talks, 'taster' workshops, intensive courses and Traineeships, the School offers a free, flexible training in alternative, ensemble theatre-making for adult practitioners of all disciplines. The School offers students clear routes into employment with Wise Children, and of more than 1,000 students who have trained through in-person and online courses, seven now regularly work with the company.
Wise Children present
THE LITTLE MATCHGIRL AND HAPPIER TALES
Based on the original production written and co-adapted by Joel Horwood and Emma Rice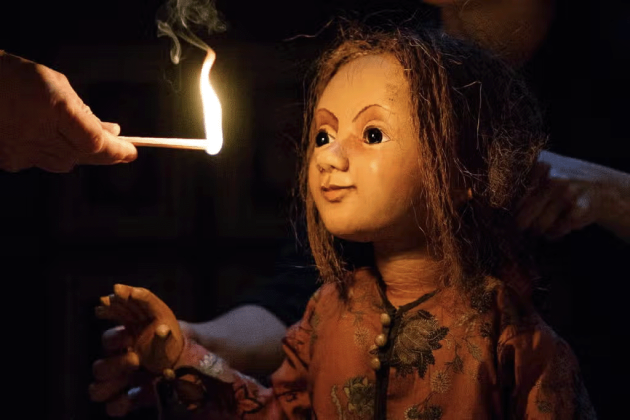 DIRECTED BY EMMA RICE
Music by Ian Ross
5 – 23 December 2023
As the Little Matchgirl struggles to survive, she strikes her precious matches to keep warm. Each match conjures a new story, and we hold her hand as she tumbles down a rabbit hole of folk tales.
Inspired by the beautiful and poignant Hans Christian Andersen tale and interweaving it with The Princess and the Pea and The Emperor's New Clothes, The Little Matchgirl and Happier Tales reveals a spellbinding world of magic and mystery.
Steeped in the metaphor and meaning that run through Andersen's enduring stories, this will be an event to delight, transport, move and surprise. For adults and brave children alike, the show will feature music, puppetry, dark magic… and perhaps some modern truths that we all might rather remain hidden.
LISTINGS
THE LITTLE MATCHGIRL AND HAPPIER TALES
The Lucky Chance, Frome: Portway, Frome BA11 1QR
5 – 23 December 2023
For adults and brave children (we recommend 8+)
Box Office: 0117 313 7636
Ticket prices
From £8.50
FULL PERFORMANCE SCHEDULE
5/6/7 December at 10am and 1pm
8/9/13/14/15/17/20/22 December at 7.30pm
16/21/23 December at 3pm and 7.30pm
The production launches new access initiative offering free tickets to local schools
ABOUT WISE CHILDREN
Created and led by Emma Rice, Wise Children launched in April 2018 and is an Arts Council England National Portfolio Organisation. Based in the South West, we make ground-breaking work with exceptional artists, and tour across the world. Alongside our shows, we run a unique professional development programme, The School for Wise Children, training a new and more diverse generation of theatre practitioners. We have just bought a building, The Lucky Chance, in Frome, Somerset which we plan to use as our creation space, a home for the School and a tiny theatre in which to welcome audiences of all shapes and sizes.
The new access initiative for local Frome primary schools has been made possible by the generous support of Paul and Joanna Pearson.
Instagram: @Wise_Children Facebook: @WiseChildrenCompany