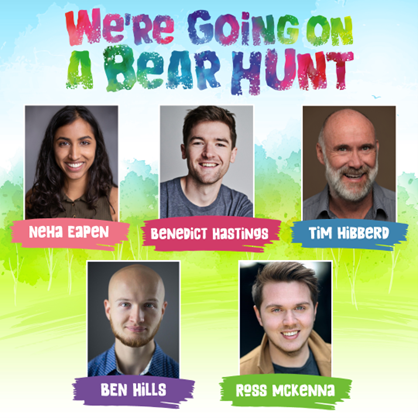 WE'RE GOING ON A BEAR HUNT
ANNOUNCES NEW CAST FOR UK TOUR
We're going on tour!
We're going to see a Bear Hunt
What a beautiful Play!
We're not scared….
Full casting is announced for the smash-hit production of We're Going on a Bear Hunt,
opening in London at artsdepot, North Finchley on Friday 13 October ahead of a UK tour,
including a Christmas season at The Lowry, Salford. Benedict Hastings (Boy), Tim Hibberd
(Dad) and Ben Hills (Dog/Musician) return to the show; they are joined by Neha Eapen (Girl)
and Ross McKenna (Understudy/ASM).
Sally Cookson's hugely inventive production set to Benji Bower's lively musical score is a
mischievous celebration of play, utilising everyday objects and materials to capture the
imagination and propel audiences into the world of Michael Rosen and Helen Oxenbury's
much loved picture book.
Music, laughter, rhymes, rhythms and repetitions together with puppetry, paint, water and
mud – not to mention a bear – we're not scared! – make this fun-filled adventure the perfect
theatrical outing for all young families.

Join our intrepid family of adventurers and their musical dog as they wade through the
swishy swashy grass, the splishy splashy river and the thick oozy squelchy mud, in search of
a bear. Expect plenty of interaction and a few surprises along the way.
Michael Rosen says of the live theatre show: "This production of We're Going on a Bear
Hunt takes everyone on the journey – not under, not over, oh no – through it! – in a funny,
exuberant and loving way. It's a show full of laughter, music, silliness and thrills that I
promise you will excite and delight all young children. This is a must-go show."
We're Going on a Bear Hunt is presented by Kenny Wax Family Entertainment and is
created by the critically acclaimed production team including director Sally Cookson,
composer Benji Bower, designer Katie Sykes, lighting designer Tony Simpson, sound
designer Jason Barnes and associate director and puppet designer Marc Parrett.
Neha Eapen plays Girl. Her theatre credits include Lottie in The Not so Grimm Twins
(Wrongsemble), and Fairy Godmother in Cinderella (for PHA/Leeds Carriageworks), for
which she won the Best Newcomer Award at The Pantomime Awards 2023.
Benedict Hastings returns to the company to play Boy. His theatrical credits include Stel &
Wes Fight the Flood (Norwich Puppet Theatre), Frankenstein (Blackeyed Theatre), Zog
(Freckle Productions), Sitting by Katherine Parkinson (Take Two Theatricals), We're Going
on a Bear Hunt and What the Ladybird Heard (Kenny Wax Family Entertainment), 3 Guys
Naked from the Waist Down (Finborough Theatre), Wolf Hall and Bring Up the Bodies (RSC),
The Mermaid of Zennor (Moon on a Stick) and Being Human (Belgrade Theatre). Over the
COVID-19 crisis, Benedict co-created Doorstep Puppet Theatre, bringing shadow puppet
shows including The Little Mermaid Finds Her Voice, ROAR-punzel – Rapunzel, but with
Dinosaurs and Who Killed Mr Punch? to households across London. Most recently, Benedict starred in the Olivier Award-winning Hey Duggee The Live Theatre Show, playing Duggee and Narrator.
Tim Hibberd returns to play Dad. His theatrical credits include The Snail and the Whale and
Mr. Benn (Tall Stories), Paddington and Charlotte's Web (Polka Theatre), and Peasouper
and Dusty Fruit (Rejects Revenge). His TV credits include Mr Fen in Topsy and Tim and
Vincent Van Coconut in Art Attack.
Ben Hills returns to play Dog/Musician. He has worked as a singer with ITV, BBC and
Fremantle on shows including BBC's I Can See Your Voice and ITV's Britain's Got Talent. He
has toured as a professional musician since 2018, working on London's West End and
internationally.
Ross McKenna joins the company as Understudy/ASM. His theatrical credits include Nick
Bottom in A Midsummer Night's Dream (Erasmus Theatre), Luca in San Domino (Tristan Bates Theatre) and Smashed (Collingwood Learning). His credits whilst training include Brendan Behan in The Hostage, Gabriel Conroy in The Dead, Francis Fryer in Calamity Jane and Florizel in The Winter's Tale.