QUAYS THEATRE, THE LOWRY, SALFORD – UNTIL 7TH SEPTEMBER 2022
REVIEWED BY MIA BOWEN
5*****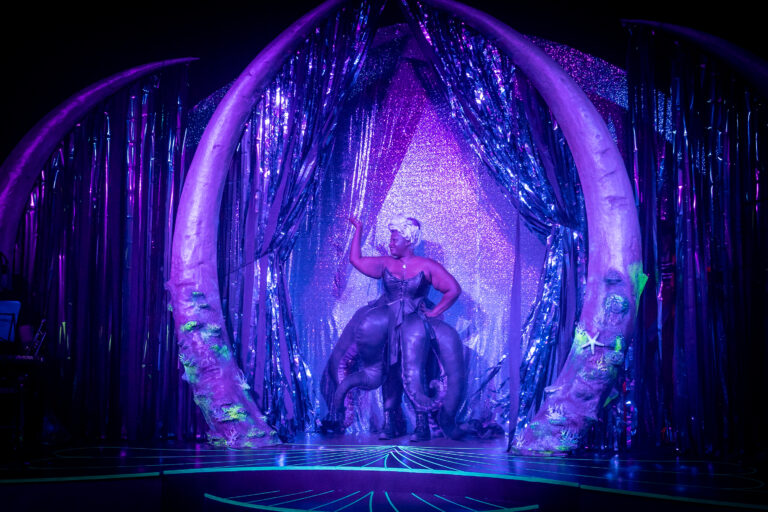 The musical parody, which puts a novel twist on the story of The Little Mermaid, made a big splash at The Lowry last night and things got very wet. Multi award winning Fat Rascal Theatre brought to the stage our favourite Disney Diva, Ursula as she recalled her side of the story of what really happened all those years ago under the sea. Just as Wicked changed our perception of the Wicked Witch of the West, Unfortunate directs our attention to Ursula, rather then Ariel and it turns out the Sea Witch has been horribly misunderstood and is actually a heroin.
If you are expecting a musical similar to the Disney version of The Little Mermaid, you are in for a huge shock! With an original explicit pop soundtrack and filthy humour, the audience is in for a hilarious and thought provoking evening of sex, swearing and sorcery.
The plot takes us back 20 years to find an unapologetic Ursula, performed by Allie Dart the understudy, framed by the father of her lover Triton, performed by George Whitty. She is then banished from the kingdom of Atlantica. Go forward 20 years and Triton's daughter, Ariel, performed by Miracle Chance, is discovering her sexuality and falls in love with Eric, performed by Jamie Mawson.
Despite being just a cast of seven, the actors work exceptionally hard throughout the performance to deliver each part, and it is easy to forget there are so few. The cast is versatile, outstanding, absolutely indescribable in everything they do and they succeed in delighting the audience.
Robyn Grant, Daniel Foxx and Tim Gilvin are collectively responsible for the book, lyrics and music. They have created a wonderful score that is memorable and pokes fun at issues and Disney. The songs are catchy and simply fabulous, and compliment the show's themes. One of the musical highlights of the evening for me was 'We did not make it to Disney', performed by all the outcasts, the ugly ones and undesirables.
Unfortunate is a visual delight with an imposing set design by Abby Clarke, Cory Shipp's imaginative costumes and impressive puppetry by Hugh Purves.
Do not be one of those Unfortunate Souls that miss out on a truly fun night out. Get yourself a ticket and get ready for a wet, wicked and wild ride at the theatre.