UNDERBELLY AND SOHO ESTATES
ANNOUNCE
UNDERBELLY'S FIRST EVER PERMANENT VENUE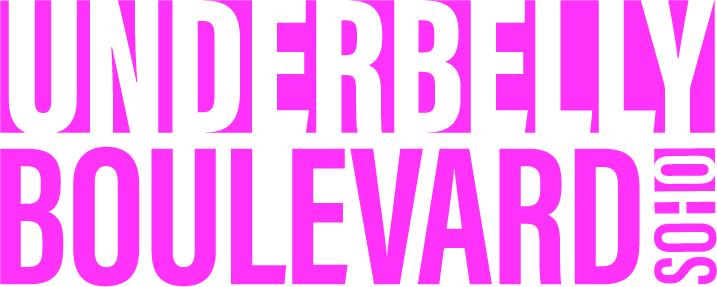 IN THE HEART OF SOHO
A NEW LIVE ENTERTAINMENT VENUE FOR
MUSIC, CABARET AND VARIETY
OPENING SEPTEMBER 2023
Underbelly and Soho Estates are delighted to announce today that Soho Estates have agreed to lease the Boulevard Theatre to Underbelly, which will become Underbelly's first ever permanent venue, UNDERBELLY BOULEVARD.In the heart of Soho, formerly known as the Boulevard Theatre and renovated by Soho Estates, the venue will open in September 2023.
Operated by Underbelly, producers of the seven-time Olivier award-winning Cabaret and iconic live entertainment events, UNDERBELLY BOULEVARD will be a brand new home for the hottest cabaret, variety and music, comprising of a 200 capacity performance venue, a rehearsal room for hire, daytime hire for events, readings and workshops, a bar and a 100 cover restaurant.
Full details and on-sale information for the opening programme of shows will be announced in July. Sign up now at www.underbellyboulevard.com to be the first to know more and for priority on-sales.
Underbelly's Directors, Ed Bartlam and Charlie Wood said today, "We couldn't be more thrilled and honoured to have been chosen by Fawn and Soho Estates to take on the lease for this extraordinary and iconic venue. Not only does this mark a major milestone for Underbelly as our first permanent venue in London, but the venue is also perfectly suited to our style of programming and live entertainment ethos. We look forward to making Underbelly Boulevard a vital and captivating part of Soho's already wonderful cultural offer and we can't wait to share further details of what we've got in store in July."
Fawn James from Soho Estates said today "The Boulevard Theatre was a wonderful chance for me to amalgamate my love of the arts and my family's long history with the area. Having invested heavily into reinstating the theatre in Walkers Court, it is hugely important to me that its legacy is continued with just as much care and dedication. I have a lot of passion and belief in this building and the heritage behind it, and I couldn't be prouder to be passing this on to Underbelly and for the Boulevard to be their first permanent venue. Underbelly's ethos fits perfectly with the history of the venue and I am incredibly excited to see them develop the Boulevard into the space it should be."
The original Boulevard Theatre site began as a sister venue to the Raymond Revuebar in the late 1950s, before becoming a small theatre in its own right, the 'Elle et Lui' theatre. In the late 1970's, it was renamed the Boulevard Theatre, and was home to a wide variety of productions, most famously to 'The Comic Strip', but also included 'The Collector' by John Fowles, adapted by David Parker, 'Infidelities' starring Jill Bennett and Eddie Izzard's 'Raging Bull' comedy club before closing its doors in theearly 1990's. In 2010, Soho Estates began an extensive regeneration of the Walker's Court area which included the reopening the Boulevard Theatre in October 2019.
Underbelly are internationally renowned producers, whose work on the Edinburgh Fringe began in the year 2000 and has continued to this day. Their iconic purple cow, Violet, has been seen in Edinburgh, on London's Southbank, in Hong Kong and more. Their theatrical arm, Underbelly Productions presents, produces and promotes a diverse programme of work including the multi award winning Cabaret at the Kit Kat Club, La Clique Live in Leicester Square, Austentatious at The Fortune Theatre, Five Guys Named Moe at the Marble Arch Theatre and more.
Fawn James is a Director of Soho Estates. Her grandfather was Soho Estates' founder Paul Raymond, an entertainment impresario and property investor, who staged revue and variety shows at countless Soho venues from the 1950s onwards. Fawn intends to honour her grandfather's legacy by helping to promote Soho as an arts and entertainment district. Fawn is also a Trustee for 'Soho Theatre' and a member of the Executive Committee of the 'Royal Variety Charity'.