TWO EXTRA WEEKS ADDED
TO THE LIMITED SEASON
DUE TO PHENOMENAL DEMAND
With phenomenal demand for tickets and most performances already sold out, producer Bill Kenwright has added two final weeks to the limited season of Ben Weatherill's new comedy, Frank and Percy, at The Other Palace in London. The production, starring Ian McKellen (Percy) and Roger Allam (Frank) and directed by Sean Mathias, will now run until Sunday 17 December. Tickets for the extra two final weeks are now on sale.
Frank and Percy received its critically acclaimed world premiere at the start of a record-breaking run at Theatre Royal Windsor, followed by two sold-out weeks at Theatre Royal Bath. Performances at The Other Palace began on 8 September.
Frank and Percy is a poignant and witty take on the unexpected relationship that blossoms between two men. Devoted to their canine companions, they believe that human connection is far more temperamental, but, as their dogs play in the park, can Frank, a widowed schoolteacher, and Percy, a somewhat radical elder statesman, find the time for new love, or should they just let sleeping dogs lie?
The Other Palace owner and producer, Bill Kenwrightsaid:
"I am delighted that we are able to offer more theatre lovers the opportunity to enjoy Ben Weatherill's new play by extending our record-breaking run at The Other Palace by two weeks only. The play reunites two of the greatest actors of a generation in an intimate setting, beautifully directed by Sean Mathias."
Frank and Percy's limited run at The Other Palace must end on Sunday 17th September and will be followed by the next musical production in the main house, to be announced shortly.
Frank and Percy has also seen the launch of a new writing development fund at The Other Palace. 50p from each ticket sold on all productions in the main house, will be allocated to a ring-fenced fund specifically to support the development of new writing and emerging playwrights. The fund will provide grants for new writing from an open call to support, commission and workshop new and emerging writers to develop new plays and musicals, which will then receive a sharing or staged production in the studio at The Other Palace. Full details of the first open call and details on how to apply will be announced later this year.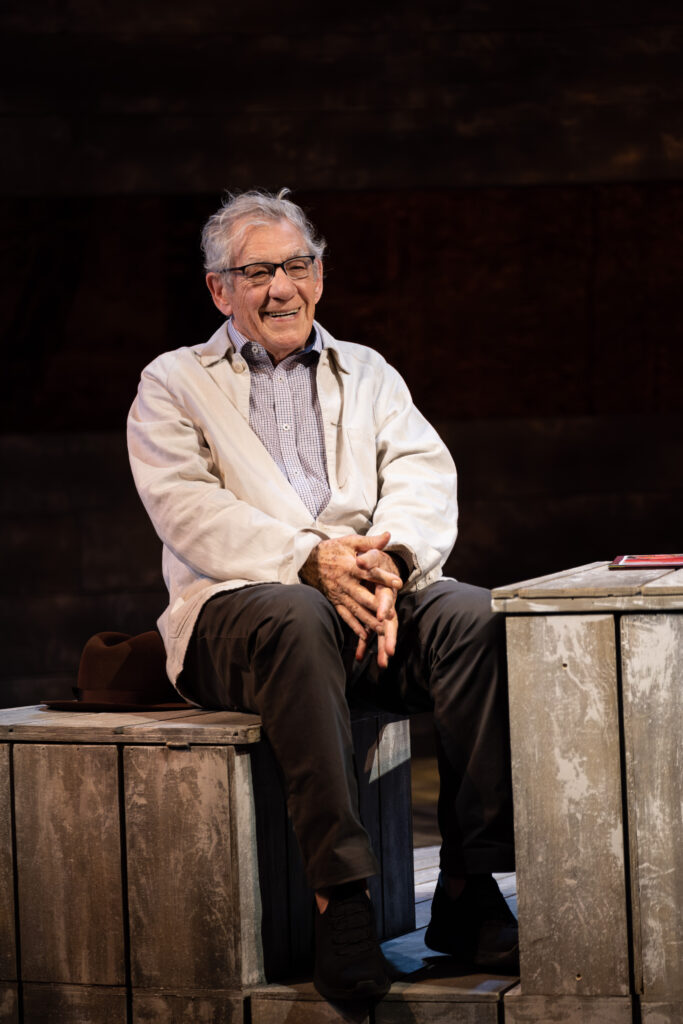 Previously to Frank and Percy, Ian McKellen played Hamlet, followed by Firs in The Cherry Orchard in Sean Mathias's inaugural summer season at Theatre Royal Windsor in 2021. Ian's performance as Gandalf in the Lord of the Rings films made him one of the world's biggest film stars, but in spite of that and his further iconic screen performances in such box office hits as The X-Men Trilogy, he has never forsaken his first love – theatre. McKellen won the Tony Award for Best Actor in a Play for his performance in Amadeus in 1981 and won six Olivier Awards for his performances in Pillars of the Community (1977), The Alchemist (1978), Bent (1979), Wild Honey (1984), Richard III (1991) and Ian McKellen on Stage: With Tolkien, Shakespeare, Others and YOU (2020).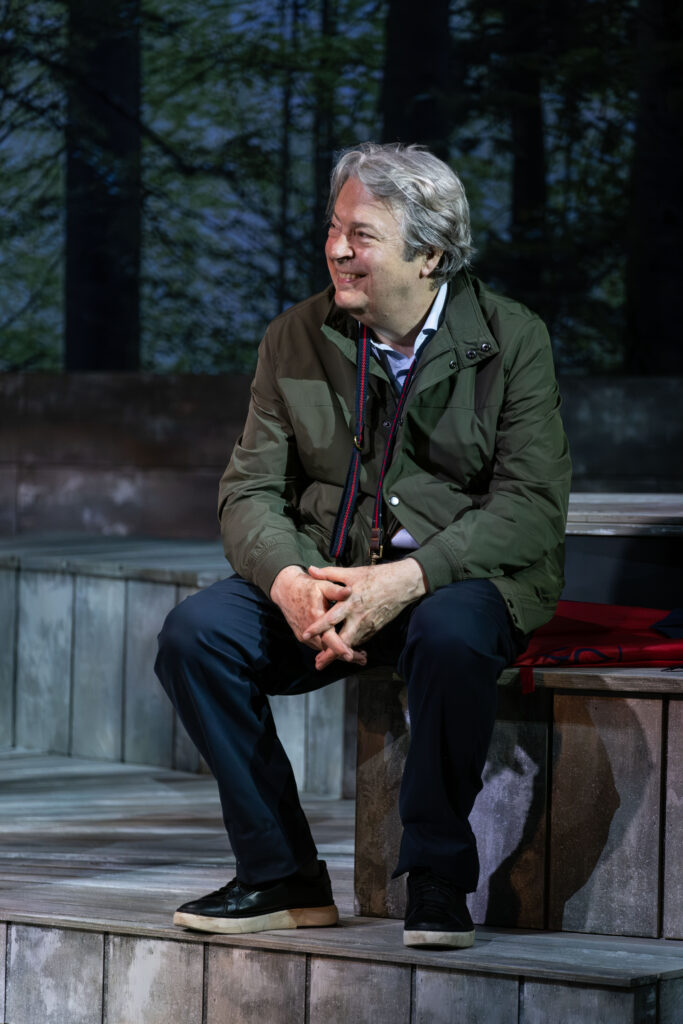 Roger Allam's many starring appearances on stage, television, film and radio over the past three decades include, on stage, Javert in the original cast of Les Misérables, Michael Frayn's Democracy and the hugely successful revival of Boeing Boeing opposite Mark Rylance, as well as extensive work at the Royal Shakespeare Company (of which he is an associate artist), the National Theatre, Shakespeare's Globe and the West End; on television, the first series of Game of Thrones, the last series of The Thick Of It and ten years as DI Thursday in Endeavour; on film, Pirates of the Caribbean, The Lady in the Van and two Stephen Frears hits, The Queen and Tamara Drew; his many radio roles include his hit series with Joanna Lumley, Conversations from a Long Marriage. He has won three Olivier Awards.
Sean Mathias is a leading British theatre director, film director and writer with numerous awards to his name, including the WhatsOnStage Award, Evening Standard Theatre Award, the Critics' Circle Theatre Award, a Fringe First at Edinburgh and the Prix de la Jeunesse at Cannes. His career includes productions at the Royal National Theatre, the Kennedy Centre, the Mark Taper Forum and many productions on Broadway. In 2009/10, Sean was the Artistic Director of Theatre Royal Haymarket, where his production of Waiting for Godot, starring Ian McKellen, Patrick Stewart and Simon Callow, played two seasons, as well as touring the UK and internationally. His production of No Man's Land, also starring Ian McKellen and Patrick Stewart, was the highest grossing play in the history of Wyndham's Theatre. In 2013, Sean directed and co-produced in rep off-Broadway Waiting for Godot and No Man's Land.
Ben Weatherill is an emerging British playwright. His debut play Chicken Dust premiered at the Finborough Theatre, before transferring to Curve Theatre Leicester, where Ben was playwright in residence. Chronic, his second piece, opened shortly after at Southwark Playhouse. The follow up to Chicken Dust, Jellyfish, premiered at the Bush Theatre, before transferring to the National Theatre. As Waters Rise ran at the Almeida with the Almeida Young Company in 2020. Ben has been nominated for multiple awards including an Offie (Most Promising New Playwright) and a Writers' Guild Award for Best Play.
Frank and Percy is designed by Morgan Large, with lighting design by Nick Richings and sound design by Andy Graham.
Frank and Percy is produced at The Other Palace by Bill Kenwright.
LISTINGS INFORMATION
8 September – 17 December 2023
The Other Palace
12 Palace Street
London SW1E 5JA
Box Office: 020 7592 0302
Website: theotherpalace.co.uk
Performances: Tuesdays – Saturdays at 7.30pm
Wednesday, Saturday, Sunday matinees at 2.30pm
Signed Performances: 4 October at 2.30pm, 17 November at 7.30pm
Relaxed Performance: 19 October at 7.30pm
Tickets: from £25.50*
*The ticket price includes a 50p contribution from every ticket sold to a development fund to enable The Other Palace to develop and support new writing.
Twitter: @TheOtherPalace
Facebook: facebook.com/theotherpalace
Instagram: @TheOtherPalace