Leeds Grand Theatre – until 2 March 2023
Reviewed by Dawn Smallwood
5*****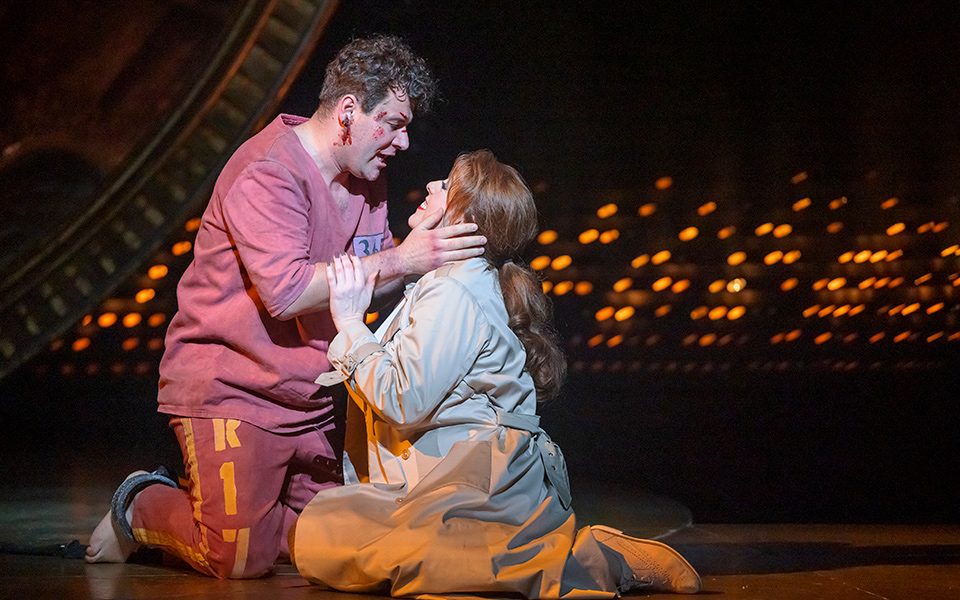 Puccini's Tosca returns to Opera North's repertoire in their 2023 Winter Season. This well-known opera is set to Giacomo Puccini's music, Giuseppe Giacoso and Luigi Illica's libretto and is based on Victorien Sardou's play. This production, premiered in 2018, eagerly returns and is directed by Edward Dick. Tosca is tense, passionate, political, and powerful – themes which one can resonate with today's current affairs. Tosca, like many stories, there is a villain, courtesy of Baron Scarpio who is Chief of Police, and a hero, Flora Tosca who is a singer.
Tosca explores the unrequited love between Floria Tosca (Giselle Allen) and Mario Cavaradossi (Mykhailo Malafii). The narrative is complicated with the arrival of Cesare Angelotti (Callum Thorpe), a political prisoner and escapee, and the unwelcome arrival of Scarpia (Robert Hayward) and his agents who are on the hunt of Angelotti.
The narrative unfolds with Scarpia's abuse of power and with the support of his agents, Cavaradossi is unlawfully arrested, and the insurmountable interrogation begins. Scarpia's misuse of power turns to passionate lust for Tosca, and he emotionally blackmails her for Cavaradossi's release. This only leads to tragedy and the final opportunity for both Tosca and Cavaradossi to requisite their love.
Puccini's powerful and melodramatic musical score is done under the musical direction of Garry Walker and the well-known arias are sung such as the energetic Te deum, the soulful Vissi d'arte and the poignant and tragic E lucevan le stelle. Excellent and evocative portrayals of Cavaradossi, Scarpia and Tosca by Malafii, Allen and Hayward (who the latter two played the characters in the production when it premiered in 2018). They are supported by a strong and talented cast and the chorus of Opera North and with Maxine Braham's choreography.
What must be mentioned is Tom Scutt's eye catching and captivating set which is staged versatility for its different spaces and positions throughout the opera. The golden dome and the colourful and attentive fresco of Mary Magdalene, who is immortalised, works ever so well with the characters and plots. The staging compliments with Lee Curran's lighting which the light and obscurity transpires to the narrative's general moods and Fotini Dimou's haute couture's costumes are exclusive for the characters. `
This popular opera was certainly written ahead of its time and whenever it's played as a new production or a reprisal, it resonates to everyone and everywhere now as much as when it did. Tosca reminisces dramatically and powerfully now and in the future.