ST LUKE'S BOMBED OUT CHURCH, LIVERPOOL – 4TH SEPTEMBER 2022
REVIEWED BY MIA BOWEN
4.5****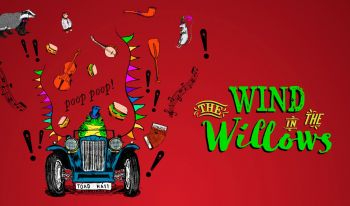 Kenneth Grahame's classic riverbank tale, The Wind in the Willows (first published in 1908) comes dramatically alive at this wonderful outdoor theatrical experience, as part of the Liverpool Theatre Festival at St Luke's Bombed Out Church. This location is fully equipped for serving alcoholic beverages, soft drinks and snacks to your seat and creates the perfect immersive and open-air venue.
Award winning theatre company Calf2Cow brings to stage this new adaptation of the classic children's novel, perfect for the modern day audience, young and old. After their 2021 sell out tour, they are touring the UK again this summer, with a 30 day tour of The Wind in the Willows.
The story begins with the arrival of spring, as the timid and home-loving Mole performed by Samuel Freeman, emerges from his underground home and ends up by the river. Here he befriends the charming and affable Ratty, a water vole, performed by Isobel Witcomb. They get along well and spend many more days boating. Mole is then introduced to the eccentric and gregarious Toad, performed by Alexandra Ricou. Toad is rich, jovial and friendly but arrogant and rash; he regularly becomes obsessed with current fads, only to abandon them abruptly. His craze for caravan travel is immediately replaced by an obsession with motorcars. Mole and Ratty seek out the elusive but virtuous and wise Badger, performed by Matthew Emeny, to help change Toad's ways.
Ricou as Toad gave a larger than life and wonderfully boisterous performance and completely embodied the character in Grahame's timeless tale. Emeny's performance as the horse that pulls the caravan was absolutely hilarious and had the crowd, big and small in fits of laughter. The chemistry between Witcomb and Freeman as Ratty and Mole respectively, was lovely. As an audience, because Ratty and Mole were having fun, so were we, their enthusiasm and curiosity were infectious. During the intermission Emeny and Freeman, dressed as the Judge and a Barrister, walked around the audience and interacted with the crowd, setting the scene for the second half.
The comedy timing, acting, playing live music and having fun despite the physical challenges posed by the roles was truly remarkable. The talent displayed by these artists was incredible.
The staging, mise en scẻne and choreography were lovely and complimented the beautiful alternative artistic location.
This production is vibrant, bonkers and contains elements of spectacle as well as some great folk rock music. Calf2Cow's wistful ode to telling stories is bold, brave and energetic.