York Theatre Royal – until Saturday 18th March 2023
Reviewed by Michelle Richardson
3.5***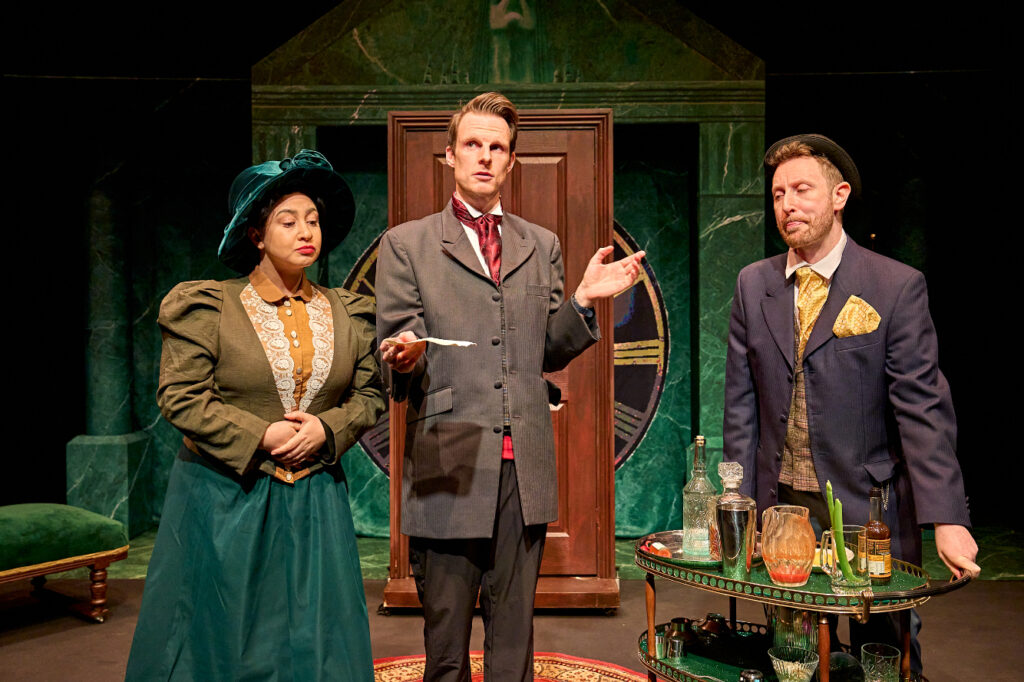 I must admit that generally, every show I go to see I do not read anything about it before hand. I like to go into a theatre and watch any show with an open mind. With the title of The Time Machine, though I have never read the book I have seen the 1960 film adaptation numerous times, I thought I had a rough idea of what the show was going to be about, even with the added "A Comedy" adorning the posters a programme. I'd left my reading glasses at home and couldn't read the programme until I got home if I had I would have had more idea what to expect.
Original Theatre are currently touring with The Time Machine and are playing at York Theatre Royal this week. Directed by Orla O'Loughlin and written by Steven Canny and John Nicholson, this show is marketed to be an adaptation like no other, when the world of science fiction and science fact collide, and mind-boggling things can happen.
This adaptation starts off as three actors, Dave (Hearn), Michael (Dylan) and Amy (Revelle), switch from performing The Importance of Being Earnest and attempt to recreate HG Wells The Time Machine after being cajoled by Dave, who is the great-great grandson of HG Wells. Things soon go off kilter with technical problems, lines outs of sync, sounds of falling props off stage, very "The Play That Goes Wrong" style of theatre. This all made sense once I read the programme and saw that Dave was one of the founders of Mischief Theatre, who are experts in this field.
Whilst Amy and Michael are trying to roughly follow the script, Dave realises he has his great-great-grandfathers original "Time Machine" and is soon convinced that time travel is real, what follows is mayhem, culminating in tragedy at the end of the first half. I must admit that this was all very confusing and though at times was funny I did truly wander what I was watching. The second half was equally just as whacky, but with audience participation and a lot more laughter. With everything else happening it was extremely entertaining and took the show to another level.
This show is well cast with the confident, enthusiastic and charismatic Dave owning the stage with his energetic physical performance. Amy is spirited in her role, often exasperated when things go awry. She gives a fabulous Cher performance, wouldn't be out of place as a Cher tribute. Michael is certainly dramatical and not only manages to do an Irish jig but delivers a soliloquy from Withnail and I. They really owned the stage with their melodramatic performances and shared great chemistry.
This show is absolutely bonkers, plain crazy, and I wasn't sure what I was watching at first, certainly not the traditional The Time Machine. We do get to see some characters from the book, the Eloi named Weena and a Morlock, the latter resplendent in a naff costume, with a lot of hair, but we are also treated to Cher, and keeping up with current affairs, Harry and Meghan make an appearance.
The Time Machine – A Comedy, takes you on a rollercoaster of a ride and really comes into its own during the second half. Full of time paradoxes, perfect for the sci-fi geeks. I do enjoy a bit of sci-fi and this didn't disappoint. This is an adaptation like no other, that takes you on a hilarious and unexpected journey, one that you can't help analysing afterwards.