Lyceum Theatre, Sheffield – until 9th November 2022
Reviewed by Sophie Dodworth
4****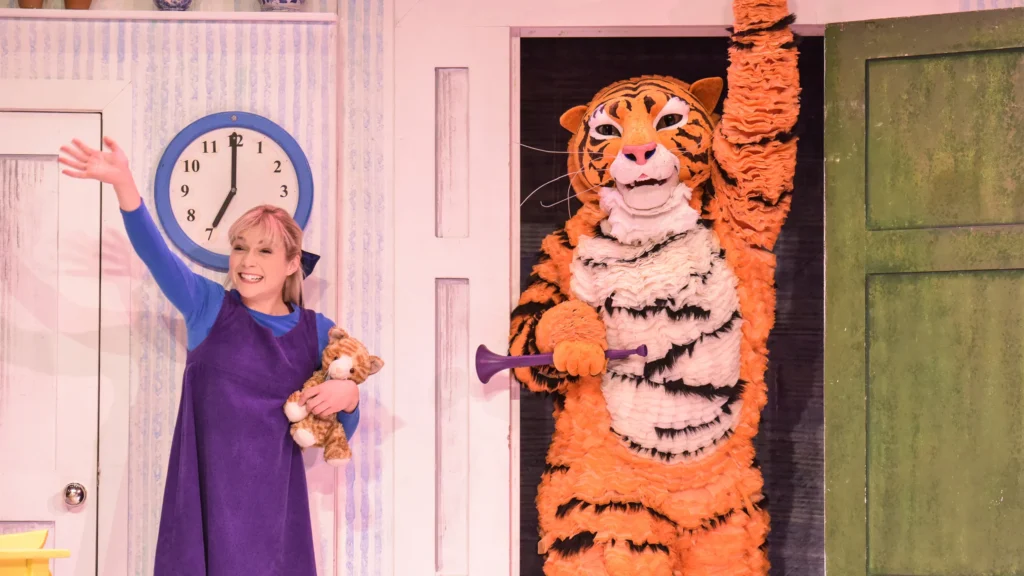 The Tiger Who Came to Tea is a well-known children's book by Judith Kerr OBE, going back 54 years. Coming directly from the West End, this Olivier nominated smash hit is on tour.
We meet Sophie (Jennifer Addey) and her mummy (Katie Tripp) who are having tea at home, when suddenly the doorbell rings. Much to their amazement, it's a tiger. A very tall one! He is hungry and somehow they both agree to him coming in for tea. The tiger then goes on to eating the entire contents of their kitchen, including Daddies (James Carlisle) supper. When Daddy comes home, he struggles to believe this story and they end up going out to a café for some delicious food.
The majority of people in the audience either know this story well from it being read to them as child, or reading it to their children, or both, either way, it is popular and well loved…but how do they fill 55 minutes of theatre with a book that normally takes less than 5 minutes to read? Well, there is a lot of fun packed in with songs, audience participation (panto style) and dancing, along with instructions for the audience to join in.
The actors are all tremendous – not breaking a smile or their character the whole way through. Both Addey and Tripp have excellent singing voices. Carlisle has so much energy and all of that is given to the performance, a really great team on stage.
A well-polished, fun family show, full of all-round entertainment, at a perfect length.