Alexandra Theatre, Birmingham – until Saturday 2 October 2021
4****
Reviewed by Nadia Dodd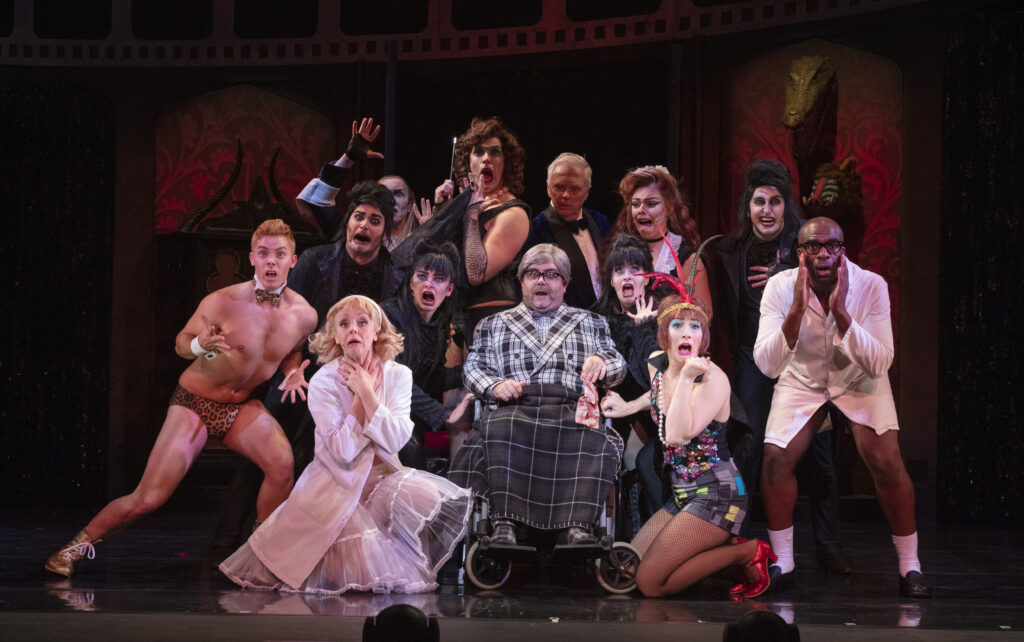 As a Rocky Horror virgin, I wasn't entirely sure what to expect last night at the show. Approaching the theatre and the queue towards the entrance, it became apparent that the show is beloved by its devoted fans – and it was clear the fans in Birmingham were all ready to party and be together again.
The audience, that many were dressed to mimic their favourite characters were just waiting with 'anti…..cipation' for the show to begin, the first song Science Fiction/Double Feature skyrocketed the energy in the room.
This is a pantomime for adults with the audience heckling the narrator (Philip Franks, Darling Buds of May, Heartbeat) who just did not flinch once and bounced good natured banter back to the audience effortlessly. Applause and laughter echoed around the entire theatre at some of his topical references, Prince Andrew, the fuel shortages and even Boris and wife Carrie.
The story well I'm not entirely sure of the plot but think they get away with it, starting with a young engaged couple Brad and Janet (Ore Oduba, Strictly Come Dancing winner and Haley Flaherty, Mouse Trap), their car breaks down and decide to walk to a nearby spooky looking castle to use their telephone.
Once greeted by Riff Raff (veteran to Rocky Horror Kristan Lavercombe) Brad and Janet are then introduced to Dr Frank N'Furter (Stephen Webb) who played the role sensationally, I never knew a man in a basque and suspenders could look so sexy!
Easily the crowd pleaser was the musical set doing The Timewarp, the audience was on their feet singing and dancing and having an absolute ball.
Further powerful songs come from Usherette/Magenta (Suzie McAdam) and Columbia (Lauren Ingram) who also showed off her amazing breakdancing skills later in the show.
The cast is further complemented by the roles of Eddie/Dr Scott (Joe Allen) and Rocky (Ben Westhead) Ben is also a personal trainer which would explain his body showing muscles where I never knew existed!
The Rocky Horror Show theatre production made its first run in 1973, so we are now fast approaching their 50th anniversary – I think this show will run on indefinitely with such a fan base of all ages it was truly wonderful to see the pure time and effort that these folk had put in on what was a wet and miserable Monday evening.
Highly recommended to any other Rocky Horror virgins out there – come up to the lab and see what's on the slab yourself!