Sunderland Empire – until Saturday 17 September 2022
5*****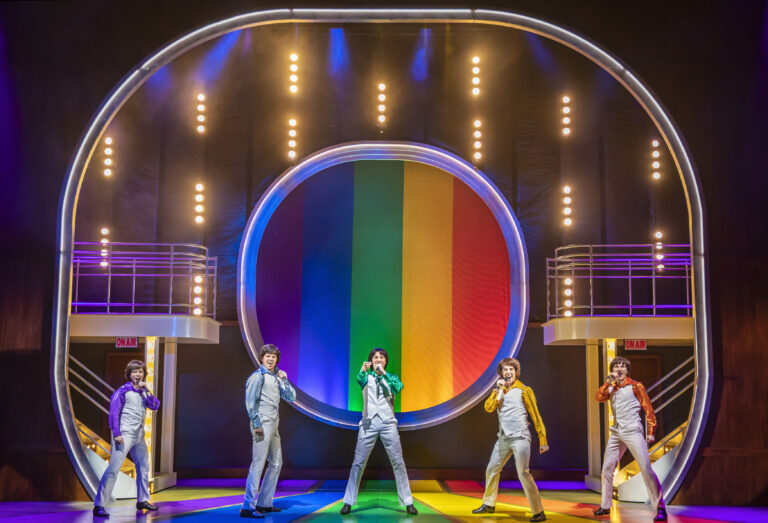 Written by Jay Osmond, this new musical tells the story of one of the most famous family singing groups rise to fame. With a theatre packed full of some of the original fans, chanting and clapping for the group, it was a nostalgic and cheesy trip into their lives.
The original four boys began singing to raise money for new hearing aids for their older brothers Verl and Tom. A chance encounter at Disney resulted in an appearance on the Andy Williams show, which in turn led to a permanent contract and a new life away from Utah, in California.
Alex Lodge narrates the show and carries the story forward in his role of Jay.  Telling us how their strict father George (Charlie Allen) made them get up at 4.30 to practice their harmonies, their instruments and their smiles.  Their two mantras being "Faith, Family, Career" and "It doesn't matter who's out front as long as it's an Osmond"  What their father lacked in compassion, their mother Olive (Nicola Bryan) made up for in spades. Lodge's easy charm and mannerisms make it look like he is really reminiscing about his past. But we must mention Ryan Anderson's stunning vocals.  From the rough gravelly tone to the incredible high notes, he took every single opportunity to show off his phenomenal talent as Merrill, chronicling his mental torment so heartfelt.
Alan (Alex Cardell stepping in for Jamie Chatterton), Wayne (Danny Nattress), Merrill (Ryan Anderson) and Jay, sang and danced with ease, joined by Donny (Joseph Peacock) and Marie (Georgia Lennon). Alongside "Little" Jimmy Osmond (Lyle Wren), who still holds the record for the youngest person to have a number one record, with Long Haired Lover from Liverpool.
The child actors in the cast need a massive special mention, on press night we watched Nicholas Teixiera (Donny), Oliver Forde (Alan), Louie Stow (Wayne), Jack Sherran (Merrill), Lonan Johnson (Jay) – all amazingly talented.
Unfortunately bad advice and management in the 80's led to a financial crisis. The choice being to declare bankruptcy and lose the Osmond name or work hard to recoup the $80 million debt. Hard work followed and a 2 year world tour cleared the debts but after the tour the family never sang again together for over 20 years until they joined up to celebrate their 50th anniversary.
The tag line for the show is "one family – one hundred million records" and the production is packed full of songs that everyone will recognise including Paper Roses, Puppy Love, One Bad Apple and my favourite Love Me For a Reason. All played by a live band (Will Joy, Tom Slade, Alistair McMath and Adam 'Twenny'Sheffield).
Bill Deamers choreography echo's the original moves and Lucy Osborne's costumes set the right tone for nostalgia too. I liked the way the boys kept in their colours. Ben Cracknell's lighting and Dan Samsons sound complimented Shaun Kerrisons direction. This is a joy of a show from Aria Entertainment, proving that Katy Lipson really has got the golden touch.
In a theatre packed with ladies of a certain age, it seemed there were a lot of fans in the audience, very obviously having a wonderful time. Whether an original fan or a discoverer of their music later on, this is a fantastic show that shouldn't be missed