Wynham's Theatre, London – until 7th October 2023
Reviewed by Ben Jolly
3***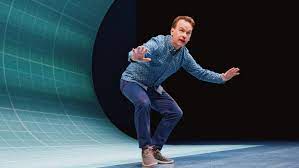 Mike Birbiglia's The Old Man & The Pool is billed as a series of jokes and stories about life and death. After the world premiere at the Mark Taper Forum in Los Angeles in 2022, this one-man event has been touring across the US before enjoying a Broadway run later in the year at Lincoln Center's Vivian Beaumont Theater. But now, London calls… and Birbiglia has answered.
Birbiglia wastes no time in diving straight for the material as he bounces on stage full of energy and charisma. There's an air of excitement and enthusiasm from this comedian/actor/writer as he comments on taking this show to London and talks briefly of his admiration for the Wyndham's Theatre where this show will play until 7th October.
The piece is quick to establish the premise and with charm and wit Birbiglia is the ultimate tour guide of the journey into his life and psyche. The piece is a perfect blend of stand-up and TED Talks, it is not a laugh a minute, but humour is the foundation from which the stand-up veteran builds his point. The language is clear and concise and Birbiglia is clearly a gifted and charming storyteller. He is smart and succinct with his vocabulary and a wonderful physical comedian. He is not afraid to show sensitivity or emotion – no stone has been left unturned here.
This leads to an engaging evening as the material gives the audience pause for thought and plenty to contemplate when it comes to life, death, family and friendships; through the use of his comedic talents and timings, Birbiglia is successful in putting his voice across. The play is well paced and doesn't outstay its welcome, running at 80 minutes with no interval, it is both well-crafted and thoroughly enjoyable. A successful endeavour by Birbiglia indeed