Festival Theatre, Edinburgh – until 22nd April 2023
REVIEWED BY RACHEL FARRIER
5*****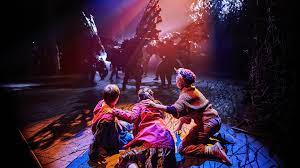 This production, based on the novel by Neil Gaiman, magnificently combines a tale of very real world grief, pain and loneliness with a magical, spell-binding and occasionally horrifying adventure that travels through time and space. It would be impossible to summarise the plot, suffice to say that Neil Gaiman's own programme notes reveal that he wrote the story to explain where he lived as child to his wife, and that although he does not trust emotions, he knows that she is fan, so he wrote it with this in mind. Over the course of the evening, the audience certainly travelled with the characters through a full range of emotions – it is by turns deeply moving, hilarious, terrifying and poignant.
The set design by Fly Davis is simply outstanding in drawing the audience into the tale. We move seamlessly from forest to farmhouse, and from family home to fantastical, liminal spaces, almost without blinking. The use of the ensemble cast throughout as a kind of constantly moving expression of the play's energy and pace is incredibly clever and the puppet design (by Samuel Wyer) is spectacular and often deeply sinister.
From the outset, Kier Ogilvy is mesmerising as the boy around whom the tale is woven, managing to perfectly convey the energy, confusion, frustration, grief and joy of a twelve year old boy whose world has been turned upside down, in an absolutely stand out performance. The whole cast deserve a similar accolade though – every one of them held the audience captivated, with Finty Williams as Old Mrs Hempstock in particular commanding the stage with beguiling authority and humour. Millie Hikasa as her granddaughter Lettie Hempstock brings energy, grace and ferocity in equal parts, whilst Trevor Fox quite frankly broke my heart as the boy's griefstricken dad (and also the boy's middle aged self), trying desperately to hold his family together without being able to speak of the sadness that has riven them apart.
Fans of the Netflix series 'Stranger Things' will identify strong echos throughout this production, not only in the eighties-tastic synth-heavy musical soundtrack, but also in the moments of true horror that held the audience gripped  – there were several moments when I realised I was watching through my fingers. Charlie Brooks as Ursula is electrifying and terrifying in her portrayal of the seemingly delightful (but actually completely monstrous, in every possible way) lodger.
It sounds cliched, but this was theatre at its finest – beautiful and elegant to watch, whilst taking the audience on a energetic yet deeply moving journey through a story which many will identify with.