York Theatre Royal – until Saturday 8th October 2022
Reviewed by Michelle Richardson
4****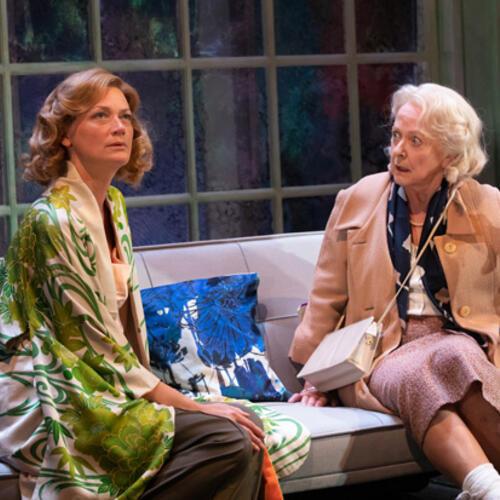 The Original Theatre Company is currently touring with a new adaption, by Rachel Wagstaff, of The Mirror Crack'd, from Agatha Christie's 1962 novel, The Mirror Crack'd from Side to Side. It is a classic whodunit from one of the best crime writers, with one of her best-known characters, Miss Marple.
The Mirror Crack'd follows the story of the death Heather Leigh (Jules Melvin) whilst attending a party at Gossington Hall, the new home of Hollywood actress Marina Gregg (Sophie Ward) and her director husband Jason Rudd (Joe McFadden). Chief Inspector Craddock (Oliver Boot) is brought in to solve the case. When he visits his aunt, Miss Jane Marple (Susie Blake), who is holed up at her cosy cottage in the supposedly sleepy village of St Mary Mead, after suffering an injury to her ankle, she can't resist the pull of the mystery and becomes involved in the case.
Susie Blake is fabulous as Miss Marple, with a twinkle in her eye and sharp as a whip. Her interactions with the poor old Chief Inspector and her good friend Dolly Bantry (the wonderful Veronica Roberts), are delightfully comical and so fresh and witty. With comments about the nearby development of houses and the building of dreadful supermarkets, you can't help but laugh at the snobbery.
The set, designed by Adrian Linford, is quite basic, but is very creative and effective. Mostly set in Miss Marple's drawing room, there is a mirrored movable structure behind. This is used as an avenue for the cast to appear on the stage and depicts different locations, being moved into various positions by the cast as the show evolves.
The talented cast really made a delight of a show, a show I have not seen before on stage or screen. I was eager to see if I could guess whodunit, I didn't, my guess was way off, which was a bonus. Agatha Christie was a prolific writer, and her work has certainly stood the test of time, with adaptations of a wide variety of her work on stage, television, and film, still being made to this day. This classic show was as fresh and relevant today as it was back when written. On a rainy blustery Tuesday, the people of York certainly agreed with this, it was great to see the theatre packed out, what a great atmosphere.
Under the direction of Philip Franks, The Mirror Crack'd is now showing at York Theatre Royal, before continuing the rest of its tour around the UK. An excellent whodunit, you won't be disappointed.