The Rep, Birmingham – until 28th January 2024
Reviewed by Joanne Hodge
5*****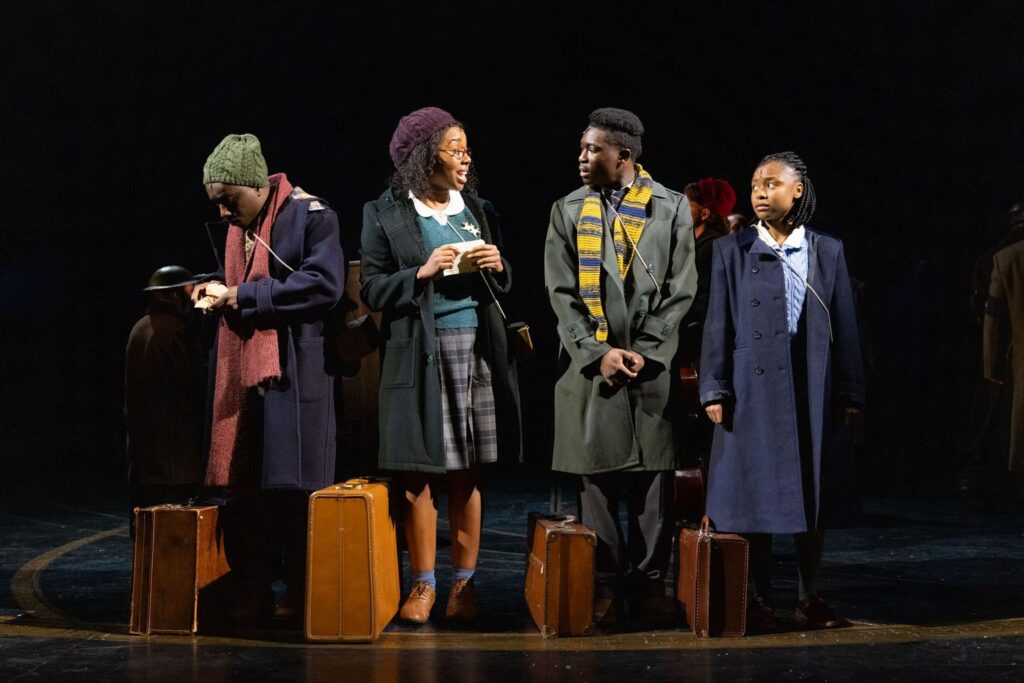 In a year which has so often felt to be always winter and never Christmas, the magic and wonder of Narnia has arrived in Birmingham direct from the West End, announcing that – at last – the big day is well on the way!
The Chronicles of Narnia were some of my favourite childhood books, and I continue to read them now, so have to admit I was somewhat nervous of the ability of this musical production to live up to the mystical world I have long held in my vivid imagination. I needn't have worried.
The moments of comedic relief begin early, with the plummy tones of the station announcer giving advice to the audience as we await the fate of the young evacuees of World War II London. The scene, accompanied by a somewhat melancholic rendition of 'We'll Meet Again', fully captures the mood of the time. And then, just like that, we are taken on a journey by steam train, to begin our full emersion into the somewhat-modernised adventures of the Pevensie children.
My awe of the work of Toby Olie [Original Puppetry Direction] and Max Humphries [Original Puppetry Design] began with the introduction of the Professor's [David Birell] cat, Schrodinger [yes, the geeks among us will love this reference to the theories of quantum mechanics]. I was instantly in love with this feline character – who knew that so much could be implied by a 'Miaow'?!
From the moment Lucy [Kudzai Mangombe] finds this mystical other world via Spare Oom and the War Drobe, our journey becomes a rollercoaster of light and shade. Jez Unwin's Mr Tumnus is an absolute delight, a flawed character who – like so many of us – finds himself in trouble for trying to do the right thing. The Beavers' [Samuel Morgan-Grahame and Ruby Ablett] give the air of a warm hug on a cold day, and you know they're the kind of people/beavers on whom you can always rely. And of course, everyone was delighted to see our festive favourite Father Christmas.
Not all the inhabitants of Narnia are what we'd like them be however. Maugrim [Shane Antony-Whitely] is truly terrifying, and our introduction to Cath Whitefield's White Witch Jadis is still giving me chills hours later.
As expected, the true star of the show is Aslan, who is represented cleverly and perfectly amazingly by both actor [Oliver Hoare] and puppetry [Michael Larcombe].
Of course most people are familiar with the much-loved tale of the battle between good and evil, so I won't spoil it for those who are yet to experience this magical land, but anyone who gets the opportunity should see this spectacular adaptation, and if it also introduces more children to C.S.Lewis's Chronicles of Narnia, I'll be even happier.