Gillian Lynne Theatre – until 8 January 2023
Reviewed by Claire Roderick
4****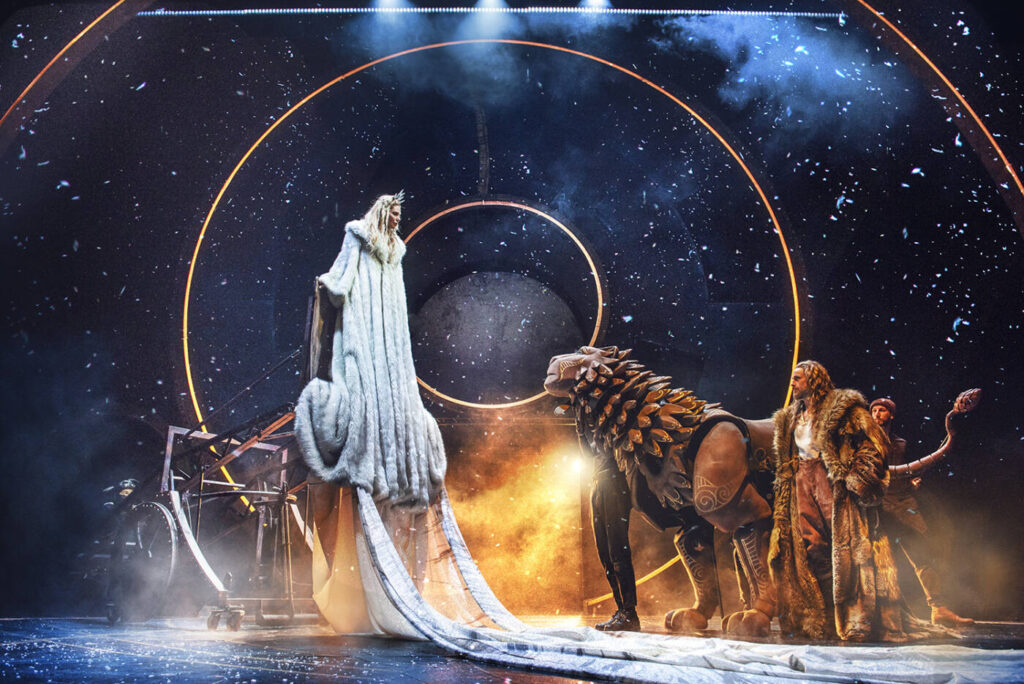 This magical production of CS Lewis's beloved story has everything you could wish for. Whether the audience has fond memories of reading the book, the BBC teatime series or the big screen adaptations, this thoughtful adaptation preserves the cosy period atmosphere and still manages to surprise and delight.
Evacuees Peter, Susan, Edmund and Lucy Pevensie are sent to Scotland and are taken in by kindly Professor Kirk (Johnson Willis), discovering that an old wardrobe is actually an entrance into the magical world of Narnia. Their presence sparks a battle for survival in Narnia as the White Witch seeks to keep hold of her icy power over the land by killing the children to ensure the ancient prophecy of peace returning under the reign of four humans is never fulfilled. The mighty Aslan returns to help the children and the creatures of Narnia, and the fate of the land depends on the courage of the four children.
Sally Cookson's original production at The Bridge made the most of the adaptable stage area, and Michael Fentiman has worked wonders adapting the show for more traditional stages. Tom Paris's evocative costumes are gorgeous, with the magical animals in clothes and uniforms the children would have seen in wartime Britain, as the Narnian conflict, although without firearms echoes the children's experiences, rooting the fantasy land in their reality and creating a wonderful sense of camaraderie on stage. The only characters who do not wear period clothes are the White Witch and Aslan, highlighting the eternal battle between good and evil. The actor/musicians are astonishing, performing the gorgeous folk inspired songs beautifully, whether they are jolly jigs or haunting ballads. The stage magic and effects are magnificently old-school, but still thrill, and the puppet work is incredible. The power of Aslan is palpable as the huge lion's head rises behind Chris Jared.
Amar Duffus, Delainey Hayles, Shaka Kalokoh and Robyn Sinclair are charming as Peter, Susan, Edmund and Lucy. They carry the show effortlessly and Hayles nails the mannerisms of the youngest Pevensie. Womack is magnetic as the White Witch – stiff and regal in her icy crown and slowly becoming more animalistic as she loses her cool.
There are some dark and quiet sections in the show, but nothing too scary for most children. The production doesn't rush the story, allowing these moments to sit and make an impact and the wonderful cast carry the audience along with them on the magical journey. This is such a well-judged adaptation, keeping true to the original book without trying to produce a noisy, all action spectacular, and instead creating an entrancing and exciting show that will warm your heart.