Theatre Royal, Brighton – until Saturday 26 November 2022
Reviewed by Sue Bradley
4****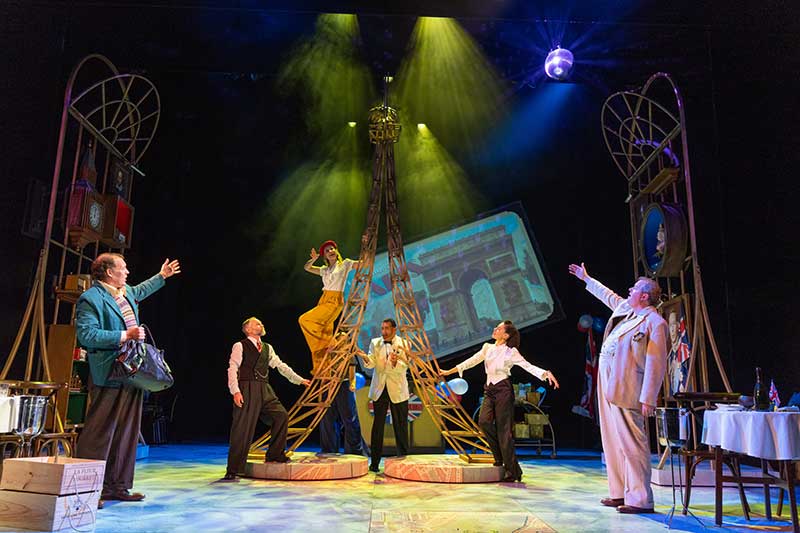 The Lavender Hill Mob is one of the most well-loved of the Ealing Comedy movies and I was intrigued to see how this classic comedy Crime Caper, originally released by Ealing in 1951, could be adapted for the stage, as it was mainly filmed in post-war London. Could they pull it off? I'm happy to say that they do.
The story opens up at a party in a Rio de Janeiro night-club on a New Years Eve in the early fifties. Our hero, Henry Holland, played by Miles Jupp (Radio 4's News Quiz) is handing out money to all and sundry, as if it were his last night of freedom. Enter the enigmatic Farrow (Guy Burgess), who is thought to be a film director by the rest of the guests. They all insist on telling Farrow their friend Holland's story, believing it would make a great film…..
So far, so good; a rather stylised costume drama. But here is where the play really begins. We can forget almost completely about who the characters are in the nightclub – instead, we remember the parts they all assume to tell us the story of a mild-mannered bank clerk who hatches a plan to steal a million pounds worth of Gold Bullion from the Bank Of England and transport it out of England in a novel manner.
This is very much an ensemble piece – all the actors take on multiple roles with a glee that is akin to a childrens' dressing-up party. There is no hint of irony here – they just look like they are having a whale of a time as they don different hats or clothing and mime driving with metal trays for steering wheels.
Miles Jupp, with his trademark self-apologetic delivery is well cast as the mild-mannered Holland, with able support from Justin Edwards as his principle accomplice Pendlebury. Tessa Churchard and Victoria Blunt also seem to be having great fun as the two professional crooks who join in the scheme. Tim Sutton keeps us entertained with parlour magic tricks and the odd spot at the piano, whilst John Dougall and Aamira Challenger complete the set with an almost bewildering number of roles.
There is an unfussy set with simple but effective lighting, and a refreshing lack of special effects, as often objects such as doors are mimed by the cast rather than actually being there, and the sound effects are largely produced by the cast rather than played in, which is charming and in the spirit of the story.
It is not a challenging evening, but more like relaxing in front of an open fire enjoying your favourite tipple, and great fun.