Theatre at The Tabard, Turnham Green – until 3rd December 2022
Reviewed by Bobbi Fenton
5*****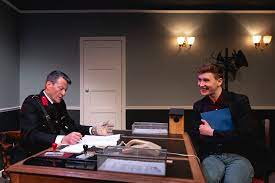 'The Last Laugh' is an incredibly funny play, about two completely opposite archetypes and how they can grow to like one another. Set during an ongoing war in a dystopian time, a Writer (Matt Wake) has written a play, and in order to have the play performed must get it through the unbelievably harsh Censor (David Tarkenter). The Censor is an army man, who has been in the army since the age of fourteen and as a result sees everything through the lens of the war. The Writer, on the other hand, is an energetic and nervous man who sees most things as an opportunity for comedy. This play shows the Writer's desperate attempt to articulate the essence of comedy to a person who has no understanding, and evidently experience, of the concept, having poorly attempted one joke in his entire life. Nevertheless, the Writer persists in this almost painful to watch attempt, resulting in the Censor warming up to him and even attempting, and completely butchering, a joke about a tin of green paint. As the Writer tries explaining the methods used in comedy, we see the Censor obliviously and unironically displaying the specific examples of comedy being explained to him, which is absolutely hysterical.
David Tarkenter's portrayal of the strait-laced, stern Censor is brilliant, as we see this character develop over the few meetings with the Writer into a very likeable character, becoming more and more interested in genuinely helping the Writer with his work. Similarly, Matt Wake's portrayal of the Writer is equally as brilliant, as we see him becoming less and less tense and relaxing in the presence of the Censor, even accepting his suggestions for some scenes in his play. The two actors work perfectly together to create this wonderful tension and many incredibly funny moments throughout the play, and I cannot think of a single pair of actors who could do this better.
The play ends with an exceptionally dramatic plot twist, as the Censor experiences a loss and the Writer expresses his feelings from the very first meeting between the two, and we hear the Writers description of a character inspired by their country's leader, making jokes linking him with Hitler. This is a great way to compare the absurdity of the Censors rules for the Writers play with the real-life restrictions that have previously been placed on creative writers and publishers.
All in all, this play is brilliant, and will have you roaring with laughter from beginning to end.