The Northern Stage, Newcastle – until 19 February 2022
Reviewed by Hayley Waters
4****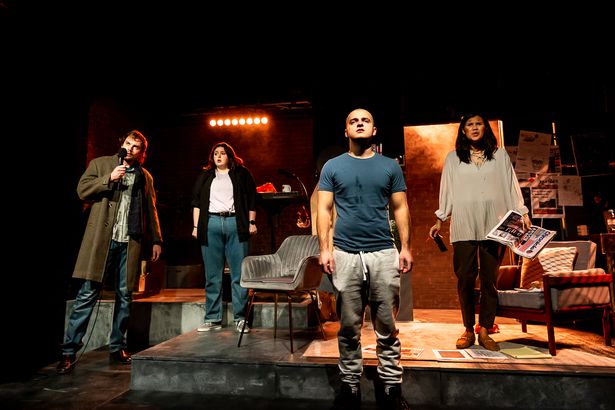 "Being invisible is good for three things." Yet the new adaptation of the Wells Book, "The Invisible Man" makes us feel intrigued, nervous and scared. Not forgetting the comedy elements which allows the audience to feel at ease to give us a nice break.
Griffin played by Daniel Watson is the invisible man, or is he? Griffin is a troubled 16-year-old boy who has been sectioned to Morpeth due to a fire incident involving his mother. As Griffin wants to be heard and not seen as invisible, he seeks help from Dr Kemp who everyone knows from the radio, played by Kate Louise Okello. The relationship between Dr Kemp and Griffin comes across professional but brushed off at the beginning as Dr Kemp tends to relate invisibility to not being heard when yet Griffin is arguing as he has scientifically proven he can become The Invisible Man. This discussion tends to argue back and forth between both characters as we get to know their background. Griffin is not heard from others, and we soon learn that Dr Kemp is also shunned due to money being a big part in her family life and Dad saving the day.
Seeing past the arrogance and the desperation for proving science to be seen, the creative input still needs to be acknowledged. The set may look basic with scene locations being set next to each other, but the actor's characterisation is rather impressive. Observing two cast members, Izzy Ions and Jack Fairley playing multiple roles and assisting with sound effects for instance. Both actors brought humour and realism to the play. Characters which became rather relatable such as stereotypical workies looking forward to their after-work pint, a care worker who typically cares but shows the side that we would never want to associate with, a priest who doesn't believe in the working class, a news reporter who is all show and my personal favourite the judge who becomes very intimidating. Bravo to Izzy and Jack. Sound effects were produced live by using household items put together, instruments or voice. Without saying too much, a great example of how this becomes effective to the audience is when the invisible man becomes outraged due to the negative comments made towards his mother who has passed away. In drink, the two work men are laughing and referring to her as the local ghost which makes Griffin rage. In anger Griffin throws glasses to scare/warn these characters. Of course, the glasses were not thrown but me writing this does make you think how did they represent this in an effective way?
Take away anything you have seen with the title "The Invisible Man" as this is not anything like them and see this with an open mind.