Northern Stage Newcastle – until 8th October 2022
Reviewed by Sandra Little
4****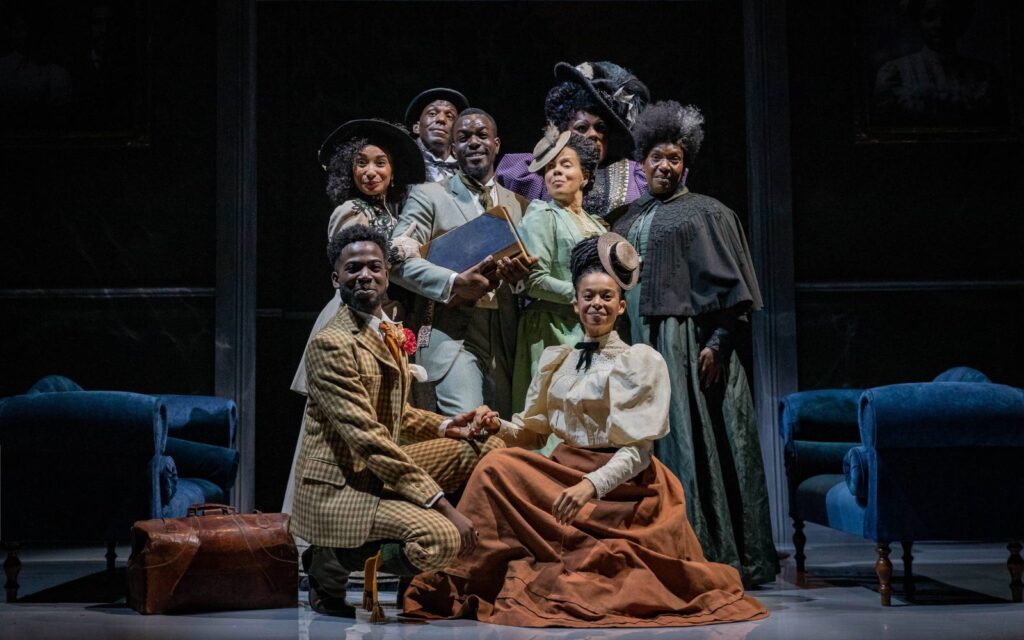 This classic romantic farce, written by Oscar Wilde, has been given a lighthearted approach by director Denzel Westley-Sanderson. However, it also questions assumptions we might have about Victorian England and is performed by an all black cast.
The play begins in the home of Algernon Moncrieff ( Abiola Owokoniran) with some flamboyant teasing between Algernon and his friend John Worthing ( Justice Ritchie ) about a name on a cigarette case. It becomes clear that John uses the name Ernest when in London and Jack when in the country. Algernon then introduces John to the notion of bunburying which can be defined as deception, fiction and escapism. He also uses the word Bunbury to describe his fictional friend.
As the narrative moves on two characters arrive at Algernon's home for afternoon tea; they are Gwendolen (Adele James), Algernon's cousin, and his aunt ( Gwendolen's mother), Lady Bracknell (Daniel Jacob/Vinegar Strokes ). John intends to propose to Gwendolen during their visit but things do not go according to plan!
In act ll John goes to his country estate to visit Cecily ( Phoebe Campbell ) who he is guardian to. He is seen wearing a very flamboyant and rather comical costume and seeks to convince those around him that his brother Ernest has died. There is much confusion at this point as Cecily thinks Algernon is John's brother Ernest and has agreed to become engaged to him.
In Act lll all of the main characters are on stage and there is much farcical confusion around names, identity, death and proposals of marriage! Eventually Algernon proposes to Cecily, John proposes to Gwendolen and Miss Prism ( Joanne Henry) who is Cecily's governess, finally reveals John's true identity.
I absolutely loved this slightly unconventional interpretation of, "The Importance of Being Earnest." Lady Bracknell (think part pantomime dame and part Miss Trunchbull from Matilda) played a great part; she was intimidating and larger than life in every respect! Her costumes were superb and gave her an incredible sense of presence on stage. The rector, Dr Chasuble ( Anita Reynolds) was clearly female and had quite a comedic role. Her interest in Miss Prism was subtle but nevertheless quite obvious. Both Cecily and Gwendolen wore immaculate period costumes and they demonstrated amusing, rebellious aspects to their characters alongside quite shallow characteristics. Their frivolous dialogue and over reaction served to highlight more serious issues. Cecily for example, states that she could never love a man called Algernon!
This review would not be complete if I failed to mention some of the classic one liners that were an integral part of the play. Near the beginning we are informed that the lower order have no sense of moral responsibility and on another occasion the opinion is expressed that literary criticism is for people who have not been to university! A favourite of mine was, "education has no effect whatsoever!"
Watching this play was like drinking a lovely glass of champagne; it was light and frivolous but with some interesting undertones. Issues around class, identity, race, relationships and marriage were all
explored and from the reaction of the audience many of these issues were as relevant today as they were when the play was written by Oscar Wilde.