Richmond Theatre – until 30 October 2021
Reviewed by Carly Burlinge
5*****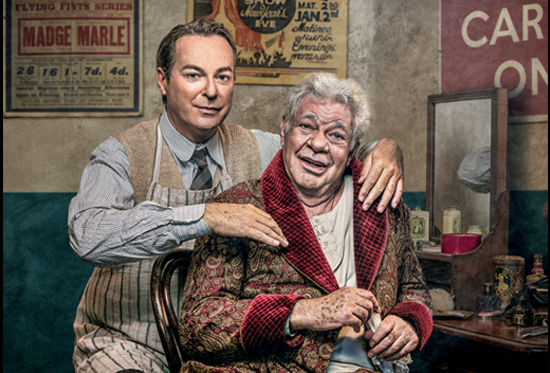 The Dresser is brought to you by Ronald Harwood and Directed by Terry Johnson. Whilst Air Raids are going off and bombs are being dropped in the year of 1942. Sir (Matthew Kelly) is trying to perform his 227th performance on stage as King Lear, after discharging himself from hospital. Things are not going according to plan as Sir is very vulnerable, having journeys of madness before returning to some form of normality. He finds himself reciting the wrong words of the play he's meant to be in! He's becoming very emotional, feeling self-pity towards himself and his health on the other hand is clearly not on his side! If they cancel the play this will be the first time its every happened. Norman (Julian Clary) his dresser of 16 years who has lots of experience of his ways is very devoted towards him, always talking him up to make his presence more magnificent than it really is! He comes across very caring but also bitter at times but proceeds throughout to get him ready as the show must go on! It seems to me that without each other, things wouldn't take place.
Sir – Matthew Kelly plays his part exceptionally well, a stubbornly ruthless actor that refuses to give in as he has a duty to perform. He offered some extraordinary body language and facial expressions throughout which conveys his characters true and emotional side – just amazing!!
Norman – Julian Clary plays a spectacular part of being the structure in which Sir needs around him to proceed. Hes gentle, calm but also hides a touch of bitterness towards him. He comes across very witty at time and had the audience laughing on many occasions!
The stage was done brilliantly as an old tatty dressing room with a dressing table and big lights surrounding the mirror, costumes hanging up on a rail at the back with different well used wigs on the shelves and a chaise longue. With an ascending piece of the stage revealing the backdrop of the curtains behind the scenes and all that happens whilst the show must go on.
What a fabulous performance with great acting that won't disappoint, a play which has both comical moments and an element of tragedy.