Liverpool Empire Theatre – until Saturday 21st January 2023
Reviewed by Carla Whittaker
4****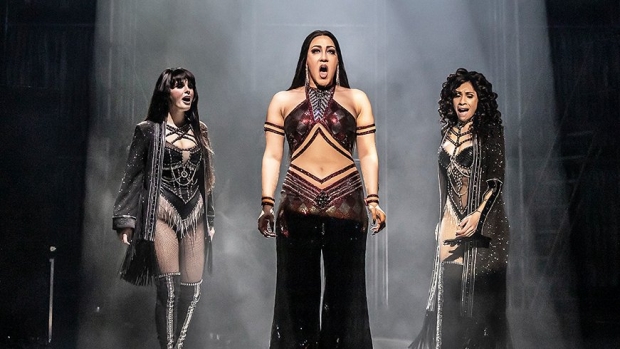 The Cher Show hits Liverpool Empire Theatre this week and if the show last night was anything to go by it sure will be a huge success in Liverpool.
The Cher Show was first staged in Chicago in 2018 before running for nine months in Broadway, it tells the story of the singer and actress Cher's life; highs, lows and love as well as her many come backs told through over thirty five of Cher's many hits including If I Could Turn Back Time, Strong Enough, Gypsies, Tramps and Thieves, The Shoop Shoop Song, I Got You Babe, and, of course, her triumphant 90s floor filler Believe.
The narrative was unique as the role of Cher was shared between three actresses; Millie O'Connell as 'Babe' who plays Cher in the 1950s and 1960s, Danielle Steers at 'Lady' in the 1970s and Debbie Kurup as 'Star' in the in the 1980s and 1990s. The three ladies are on stage most of the time; interacting with each other adding a fantasy element to the story and allowing for some fittingly moments. Each 'Cher' had a singing style bosting energy, diva attitude and effortless performances. These three really take you on a roller-coaster ride through Cher's life from a young kid with big dreams to a pop icon!
Lucas Rush is marvellous playing the role of 'Sonny', really looking the part and ageing as the years pass as he launched Cher in the music scene dominating the pop charts in America and Britain.
The show is supported by an incredible exemble of dancers who really help bring the show to life with amazing vocals and flawless choreography really make this show one to watch. The set design is simple; a full height of the stage row of hanging costumes in grey bags, with fantastic lighting effects, complimented by the dazzling and effective costumes designed by Gabrella Slade.
This show was really like a glittering nonstop party for people of all ages. A particular highlight for me ( and I think others!) was at the end when all three Chers sang a melody of all Cher's classics; it got the audience up on the feet; singing, dancing and just having a really good night! Everyone had a smile on the face!
If you want a night full of style, wit, with the feel-good factor I recommend getting tickets for Cher the Musical playing at Liverpool Empire Theatre until Saturday 21 January 2023; you won't be disappointed!