Theatre Royal, York – until 30 October 2021
Reviewed by Katie Goldsbrough
4****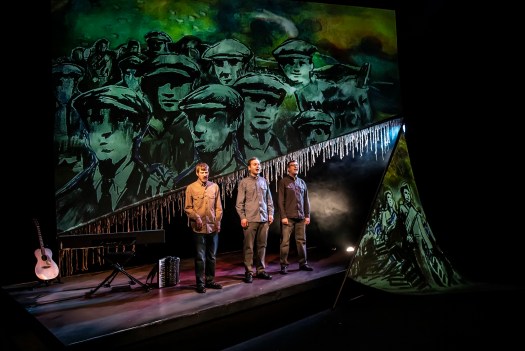 The Ballad of Johnny Longstaff is the true story of Johnny Longstaff, told by the Young 'Uns, a folk trio from Teesside.  In 2015 The Young 'Uns became aware of Johnny's story after his son approached them in the hope of them writing a song about his father. With hours of recordings and a fascinating story about a young man's refusal to give up and let fascism win, they soon realised one song would not do Johnny justice.
They tell Johnny's story through music with Johnny's own recordings of his life integrated throughout. We learn of Johnny's life through the 1930s starting as an unemployed 15-year-old travelling to London as part of the Hunger Marches, Johnny then finds himself at the Battle of Cable Street and realises he wants to continue fighting for what is right. He then decides to volunteer to fight fascism in the Spanish Civil War.
This story will leave you realising how lucky we are to have had people like Johnny stand up and fight for what they believe in and what was right. Johnny was a true hero and the way the Young 'Uns tell his story is fantastic. They use a mixture of songs, Johnny's own voice and animation to really bring his story to life. All three have lovely voices and are extremely talented. They make you see what it must have been like for those young men suffering so much yet still fighting for what was right. Despite the story being about Johnny suffering through poverty, going to war and seeing his friends killed they still manage to find humour in his story. 
I would highly recommend this fascinating true story told in such a unique way.