Forum Theatre, Malvern – 7th June 2023
Reviewed by Courie Amado Juneau
5*****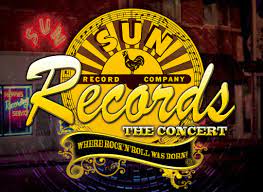 The history of popular music would not have been the same, nor anywhere near as good, without the records coming out of Sun Records. Although owner Sam Phillips had been recording artists for years, it was the arrival of Elvis that catapulted his little studio to legendary status! And so it was fitting to start with that first side ("My Happiness") by the young Elvis; Michael Glaysher bringing The Hillbilly Cat to life. Close your eyes and you could almost believe those rumours he's still alive.
Elvis temporarily leaves the stage and up steps Remi Banklyn (playing various roles), harmonica in hand, to show us that Sun Records wasn't all about Rock N Roll. It also introduced tonight's house band – nominally playing Elvis's original band; Scotty Moore (Gerry Slattery on guitar) and Bill Black (Jason King on bass).
From hereon the musicians remain on the stage, producing a larger ensemble. A cleverly put together show, giving us the personnel needed for each new artist's repertoire rather than following a chronological path. And so to our next legends; Pete Storm doing a marvelous Johnny Cash with "Big River" and "I Walk The Line" then Ricky Gould as Carl Perkins; one of those artists whose works are best known via other artists covering his songs (i.e. The Beatles doing "Matchbox" or Elvis doing "Blue Suede Shoes". It was great to hear these classics done in the original style.
The performers mingled with the audience after the show. A really nice bunch of chaps. I was assured the names of the performers was on the website. Unfortunately, I couldn't find anything for who played Jerry Lee Lewis or DJ Fontana! Which is a real shame as I wanted to especially mention the young lad who played Jerry Lee – he was exceptional! Worth seeing the concert for his take on "The Killer" alone. It must be a fun part to play – it sure was fun to watch – and remarkably accurate too! Tonight's drummer was brilliant throughout and gave one of the best drum solos I've ever seen.
The second half was the concert that never was but we wished had happened. Billed as The Sun Records Legacy, it highlighted tons of songs these stars recorded post Sun Records such as "Tiger Man", "Pretty Woman", "Ring Of Fire"… You get the idea – a Rock N Roll jukebox, packed with solid gold hits played with exuberance. The last song typified the evening, with a blistering version of Elvis's "Rip It Up". Many of the audience were spinning in the aisles, others with hands sore from clapping and everyone loving the show. The performers giving us all the excitement of those early days of Rock.
I cannot recommend this show highly enough. It's a feel good show that will appeal to lovers of any (and all) of the individual artists, music lovers in general or anyone just looking to have a fun night out. It began with "My Happiness" and ended with all our mutual happiness. Musical joy incarnate!