New Wimbledon Theatre – until 12 November 2022
Reviewed by Carly Burlinge
5*****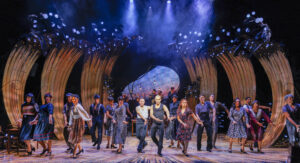 Just Amazing
New Wimbledon brings you the story of Strictly Ballroom the film we all love and know, made in the 90's and written and directed by Baz Luhrmann. The story is brought to life on stage and takes your through Scott Hastings (Kevin Clifton) journey. Where he has been dancing the strict steps of the Australian Dancing Federation, which to him doesn't make him feel alive. For him his own individual style is the path he wants to lead. However, when everybody has had enough of his solitary dance moves. He ends up without a dance partner for the championships. He then finds a partner in Fran (Maisie Smith) a beginner in his mother's dance group. Who plays an excitable character that can easily get carried away. She challenges him to take her on! With his ignorance getting in the way, as he is a championship dancer after all! and she is a beginner of course!  Fran begins to rock out her own moves in her own style and it begins to feel like maybe they might just have something in common.  The pair begin to form a relationship and begin to dance together they find something inside of each other that they never knew was there before. With Scott's mother Shirley Hastings (Nikki Belsher) who has a scary, fixated smile but is nasty on the inside and will do anything to get what she wants for her son. Even if he doesn't want the same things. It's clear that she doesn't care who gets hurt along the way! 
Then there's his dad Doug Hastings (Mark Sangstar) The nonexciting husband that finds everything far too much and would rather disappear out of the limelight could he be holding a secret?
Then there is Frans family with an overprotective Father Rico (Jose Agudo) who at first is not interested in his daughter getting involved in any way, until he meets Scott who performs his championship paso doble dancing only to be laughed at. Rico then performs the dance from the heart which completely takes the audience away, with such magnificent skill that was not only electrifying to watch but showed talent and such satisfaction. This was such an astounding scene!
Kevin Clifton also showed equal talent throughout the performance and was a joy to watch with such precision and passion in his dancing it blew me away.
Maisie Smith also offered an outstanding performance that was delicate and racy and what a voice! Her voice was spectacular, and she fit the role perfectly it was like the part was made for her!
To be honest I could go on and on about what an exceptional show this was to watch but I don't think I would stop. The last thing would be the outfits that were dazzling and bright with so much glitter and sparkle that also made the whole performance. The stage and lighting were also exceptional and gave it the full experience to make it a sensational production that you just shouldn't miss.
Absolutely outstanding!!!!