Lyceum, Sheffield – until 27th May 2023
Reviewed by Alison Beaumont
4****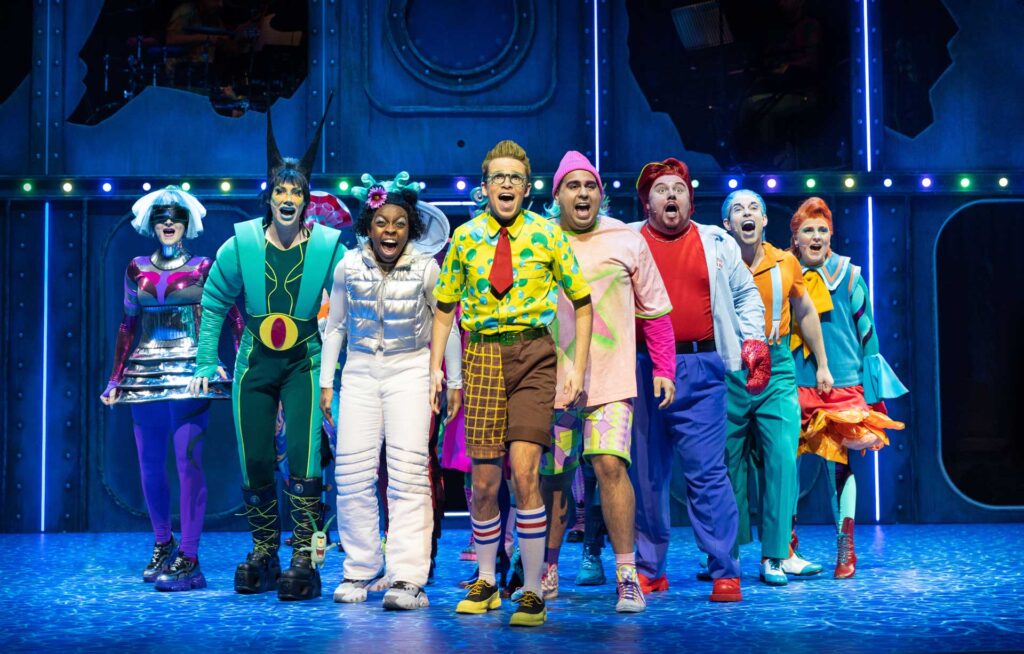 Spongebob the Musical is based on the hit Nickelodeon children's TV program Spongebob Squarepants.
When the people of Bikini Bottom discover that a volcano will soon erupt and destroy their home, Spongebob and his friends come together to save their undersea world.
The storyline isn't what makes this show it's the actors, the scenes, costumes and songs. You might think this is a musical just for the young, but it is enjoyable for us big kids.
The cast all enjoyed themselves and the smiles on their faces and pure enjoyment were felt throughout. At times it felt like the stage was very chaotic, but this just adds to the craziness of this great show. The costumes were bright and colourful and just right for this show., I especially liked Squidward's (Tom Read Wilson) four legged trousers. The creativeness of the headwear for the Electric Skate Band using plastic cups and plastic straws was very effective.
Screens on the stage gave news bulletins from the famous tv presenter Richard Arnold who played Perch Perkins. Although it was nice to see someone of his stature on the show it didn't add anything that couldn't have been achieved by anyone playing the role.
Spongebob played by Lewis Cornay sang a solo (Just a) Simple Sponge which was very good, and the neon dancing sponges added to this routine. The only thing I would say is it would have been better had the spotlight not been quite as bright as you could see some of the faces of the cast moving the sponges when it was supposed to look like the sponges were dancing on their own. Lewis played the part of Spongebob brilliantly with lots of energy and enthusiasm. He kept Spongebob's accent throughout and at times sounded very much like the tv character Spongebob.
Irfan Damani played Patrick and was very funny. The best part for me was Patrick is a Star song which really made you want to get up and dance.
Sarah Freer who played Pearl is an excellent singer, very strong and shone in the song Daddy Knows Best.
The creativity in the Jelly Fish scene with Squirrel (Chrissie Bhima) was simple but effective.
I'm not a Loser was another song worthy of a mention, the tap routine to this was brilliant and faultless.
The show finished by everyone getting up to the theme song Who lives under the pineapple under the sea Spongebob Squarepants