THE ALEXANDRA THEATRE BIRMINGHAM – UNTIL SATURDAY 1ST OCTOBER 2022
REVIEWED BY NADIA DODD
4****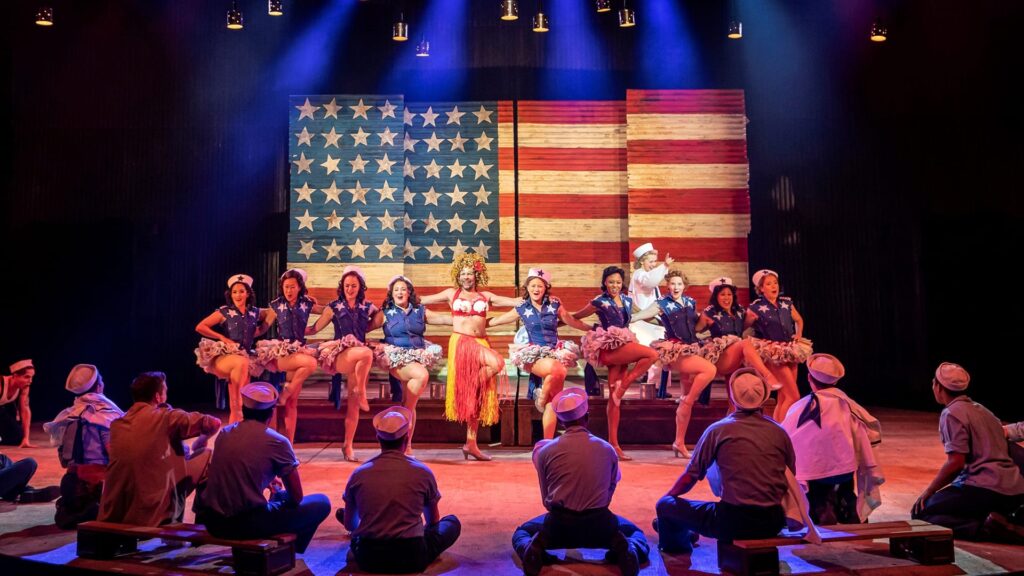 The classic Rodgers and Hammerstein's 1949 film South Pacific is bought alive on the stage currently touring the UK by the Chichester Festival Theatre. A powerful love story set on an island in the South Pacific during World War II.
The audience tonight were treated to such delights of iconic songs such as 'Some Enchanted Evening', 'I'm Gonna Wash That Man Right Outa My Hair; and 'I'm In Love With A Wonderful Guy'.
The musical performances were enchanting, the choreography was mesmerising, which was all put together by Ann Yee, the theatre's choreographer.
You are hooked from the opening scene where Sera Maehara (Liat) is dancing alone on the stage as if she is engulfed in water, she's a young Tonkinese girl whose mother later offers her up to marry a Lieutenant from the US. You find yourself following her movements from her fingers to her toes, the lines that her body makes are 10 out of 10.
The main characters are played in this production by Julian Ovenden (Emile) and Gina Beck (Nellie) their voices are outstanding and they are real stage superstars of musical theatre.
Stage scenery and lighting went from bold bright revolving sets and flooring to the dim, romantic setting of the Polynesian Island of Bali Ha'i the latter of which you can't help getting completely emerged within.
One of my favourite scenes for pure entertainment would have been when the song 'There Is Nothin' Like A Dame' was performed by the marines, the Seabees. Amazing choreography by all the males throughout this number appreciated by the audience with such a raucous applause.
All were extremely talented although I feel that an extra mention is well deserved for Douggie McMeekin (Luther Billis) his is perfectly cast for this role, he brings laughter and comedy to his character, has a powerful voice and carries off a grass skirt and bikini bra top rather well!
All in all, soaring melodies, explosive choreography and some delightful upcoming child stars, the cast and orchestra really raised the roof this evening.