THE ALEXANDRA THEATRE BIRMINGHAM – UNTIL SATURDAY 23RD JULY 2022
REVIEWED BY NADIA DODD
5*****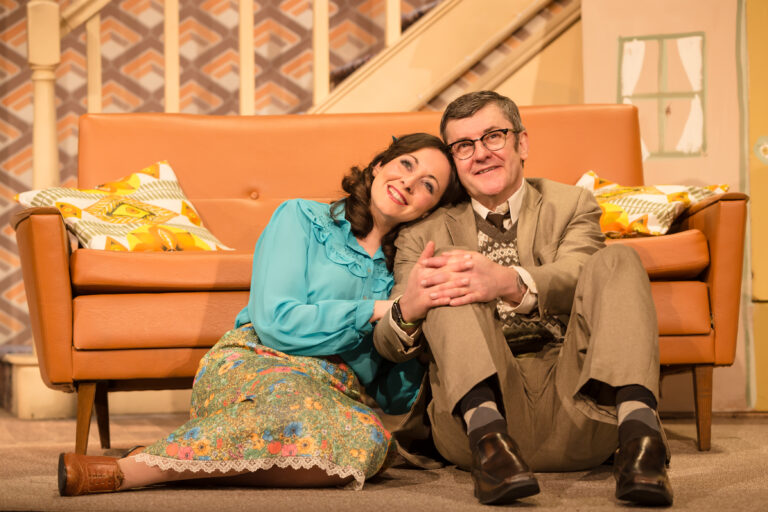 A great reminder ofa real British sitcom comedy from the 1970's which Raymond Allen wrote the original TV series starring Michael Crawford as the loveable accident prone Frank Spencer.
As the opening music played which was the title theme to the sitcom show it bought back some fantastic childhood memories of this real haphazard character that plenty in the theatre tonight adored.
Star of the stage show production is comedy legend Joe Pasquale who mimics Crawford's characterisms and facial expressions of Frank (Spencer) to an astounding tee. His fellow actors had their work cut out in keeping a straight face, composing themselves and carrying on with the show when Pasquale looked like he was about to burst into laughter on more than a couple of occasions…. the reason I love theatre, it's real and happening right in front of your eyes, no two shows will ever be the same, and the audience soaked it up tonight.
Not a real gripping storyline but its British sitcom, it doesn't need to be, daft jokes, ridiculous high jinks foolery and general clowning around is all that was needed and the 6 actors on stage tonight certainly did this.
Betty Spencer (Sarah Earnshaw), Frank's long suffering wife, deserved a medal keeping calm and extremely professional working alongside Pasquale. Mrs Fisher, Betty's mother (Susie Blake) was hilarious during a scene following her having drunk rather a large amount of homemade prune wine whilst visiting her daughter and son in laws house for dinner one evening along with a new pompous male 'friend' of hers Mr Worthington (Moray Treadwell). Treadwell also plays the part of Mr Luscombe, a director of a show from the BBC who came to film Frank for a new upcoming TV show.
Further comical scenes follow and it becomes apparent Frank is no dab hand at DIY around the house with all of the mishaps that occur. The best scene for me would have been 3 Frank Spencer's dancing on staircase to 'Knock Three Times'. Simple but so effective and great vision from choreographer Jenny Arnold.
With record summer temperatures today being hit in the UK, it was a tad warm sat in the audience, goodness knows how they felt on stage under the lights and in full make up and costume, but they all delivered the final scene with unflagging energy, dancing to the disco tune 'Tiger Feet'. There was hardly a dry eye in the house – all from laughter of course!